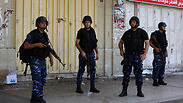 Palestinian security forces
Nablus, the second largest city in the West Bank, was gripped by violent protests on Tuesday after the death of a Palestinian detainee shortly after he was seized by Palestinian security forces.

Hundreds of protesters, some throwing stones, marched through the city to denounce the death of Ahmed Halawa, who was seized during a police raid that followed the death of two police officers last week.

"Security forces detained Ahmed Izz Halawa during a complicated and delicate security operation in Nablus," Adnan Al Dmairi, the spokesman for the Palestinian Authority's security services, said in a statement.

Halawa was killed after he was taken to Juneid prison in Nablus, he said, although the exact circumstances of his death were not clear. Akram Al-Rjoub, the governor of Nablus, said Halawa was beaten to death by members of the security forces.

Palestinian Prime Minister Rami Al-Hamdallah promised a full investigation, describing the incident as "rare".

Halawa was a senior member of the Al-Aqsa Martyrs' Brigade, a militant group linked to the Fatah party.

In some cases militants have become involved in criminal activity on which the Palestinian security forces have been cracking down, the Palestinian government said.

Last week, security forces carried out a raid in Nablus targeting a criminal group suspected of harbouring weapons. Two suspects were killed, one of them a relative of Halawa's, and two officers were shot dead.

Rjoub said Ahmed Halawa was "the mastermind" behind the shooting of the officers.