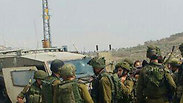 Scene of the attack
Photo: Judea and Samaria Hatzalah
A soldier was lightly wounded in a stabbing attack at a junction on Highway 60 near Nablus on Wednesday afternoon.

Scene of attack (צילום: הצלה יו"ש)

Palestinians were hurling stones from a travelling vehicle on a section of the highway between Kedumim and Yitzhar, hitting the windshield of a military vehicle and prompting troops from the IDF's Nahal Brigade to chase after them.

During the chase, the Palestinian car made a U-turn and found itself blocked by the military vehicle, causing it to stop. The soldiers, who got out of the military vehicle, called on the two Palestinians in the car to come out.

The driver, who claimed he doesn't speak Hebrew, alighted the vehicle and stabbed a soldier in the neck. The stabbed soldier then shoots the stabber dead, neutralizing him.

The soldier was treated at the scene and then evacuated to Beilinson Hospital in Petah Tikva and was released shortly thereafter.

That section of the highway was closed following the attack.

The attack marks the first terrorist stabbing in a period of relative calm after Israel was beset by a wave of terrorist shooting, knife and vehicular attacks which left dozens of Israeli civilians and soldiers dead or wounded in recent months.