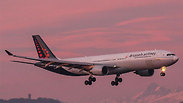 Belgian carrier Brussels Airlines has stopped handing out Ahva brand halva snacks on flights following a request by the Palestine Solidarity Movement.

The snack is produced in the Barkan industrial park in the West Bank on land the organization claims is "illegally occupied."

The halva snack was discovered by a Palestine Solidarity Movement activist who was travelling from Ben Gurion Interantional Airport to Brussels and saw the product as a dessert option, realized it was produced in Israel, and told fellow activists to take action. The activists complained to the airline which quickly acquiesced to the request.

The official reason given by the airline regarding the decision not to serve the product is because the product is produced on illegally occupied land in the West Bank.

"There are many companies which aren't aware of the conditions under which the products they are buying from Israel are produced," movement activists wrote in a statement. "The Belgian foreign ministry must intervene and monitor to make sure that there will be no trade with companies based in the settlements."

Brussels airlines responded, saying "our company provides travelers with a vegetarian option, including dessert. On the Tel Aviv-Brussels line, the local catering company accidentally included a dessert called 'vanilla halva' which didn't comply with the food order we gave them."

The company added that "the customer who came to us with the complaint brought to our attention that the aforementioned dessert is a controversial product. As a company which serves an international audience full of people from a wide rang of backgrounds and cultures, it is our responsibility to present products which will be amicable to all, and therefore, we decided to change desserts."

Yaakov Malach, owner of the Ahva factory which produces the halva, said that "(our factory) is an ingathering of the exiles. Palestinians, Israeli-Arabs, Jews, Samaritans, and settlers all work here. Peace begins here, not from airlines. Peace comes from places where people work shoulder to shoulder. It's true co-existence. We work with most airline companies, and I'm happy that they (Brussels Airlines) is just a small company, and that this won't create a snowball effect. By the way, it's not definite that this company will stop working with us. Just because they told one tourist (that they would stop) doesn't mean that they'll stop buying from us."

He continued, saying "those who don't want to buy from us will learn to get by without us. Despite all of the boycotts in Europe - the moment that the consumer decides that they like the product they'll buy it. The fact is that 20% of everything we make is exported, and we export at good prices."