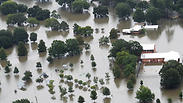 Israeli aid group going to Louisiana to assist flood victims
Following a torrential downpour which has killed over 13 and forced tens of thousands from their homes, Israeli aid organization IsraAid is sending a delegation of aid workers to assist families affected by the worst natural disaster to hit the US since Hurricane Sandy.
IsraAid, the Israeli international aid organization, will be sending a delegation of aid workers to assist the people affected by the flooding in Baton Rouge, Louisiana.

The eight person humanitarian delegation is slated to fly out to the areas affected by flooding by the weekend. They will help Louisiana residents return to their homes to collect personal effects, and help to begin the process of rehabilitating flooded out homes so that the Louisianans' lives that have been affected by the flooding can go back to normal.

There have been more than 13 deaths attributed to the flooding so far, and over 60,000 homes have been affected by the flooding in the state.

The delegation will be led by Naama Gorodischer, who currently serves as one of the heads of IsraAid programming.

"We've been following how the storm and flooding have been developing over the last few days." Naama said." With the help of our local partners, we've been able to get a good situation report on the extent of the damage, and the urgent need for assistance and rehabilitation."

"Our team will arrive in the field at the exact time that the water levels are expected to lower, which will enable us to start working immediately," she continued.

The flooding in Louisiana is the result of a storm system which dumped rain on the state for three consecutive days. Areas surrounding Baton Rouge, the state's capital, were subjected to downpours which dumped between two to three inches of water an hour.

The storm, which was trapped in a low pressure system and thus was unable to move, rained down three times more water on Louisiana than Hurricane Katrina did in 2005. Of 64 Louisiana parishes, 20 have been designated federal disaster areas by the Federal Emergency Management Agency (FEMA).

The storm is considered to be the worst natural disaster to hit the US since Hurricane Sandy devastated New York City in 2012.

The IsraAid delegation is coming on the heels of visits by President Barak Obama and US Republican Presidential Nominee Donald Trump volunteered with a Louisiana aid organization.

In addition to assisting in disasters all over the world, IsraAid was on the ground assisting communities in the United States recover from natural disasters such as Hurricane Sandy, Hurricane Katrina, and recovery following an outbreak of tornados in Oklahoma, amongst others.