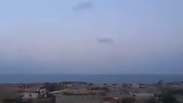 Fire directed at IDF patrol boat off Gaza coast
Israeli naval forces came under fire from the Gaza coast during the arrest of two Palestinian fishermen who entered restricted waters; Israel did not return fire at the source of the gunshots; one Palestinian was wounded in the arrest and was evacuated for treatment and interrogation.
Gunfire from the Gaza coast directed at an IDF ship occurred during the arrest of two Palestinian fishermen Thursday morning. There were no casualties or damage reported.

The Palestinian vessel deviated from the area permitted for fishing in the northern Gaza Strip near Beit Lahiya. A naval force approached the vessel and began procedure for detaining the occupants, which concluded with warning shots being fired at the fishermen. One of the men in the boat sustained injuries in the process and was evacuated for medical treatment and interrogation.

The shots were fired in the direction of the IDF ship from the Strip's coast when the second Palestinian returned to the designated fishing area.

The incident, which occurred about a kilometer off the coast was captured on recording in which the sound of gunfire toward the ship can be heard. According to the Palestinians, both of the men in the vessel were indeed fishermen. However, the incident occurred on the maritime border with Israel, where the presence of fishermen is strictly prohibited.

Gaza fishermen are restricted in the distances they are allowed to travel from the coast by Israeli authorities. Detention of fishermen for violations is commonplace, but shooting at IDF ships during such incidents is rare.

No group has claimed responsibility for the gunfire and Israeli forces did not return fire at the source of the shooting.

The incident occurred four days after a rocket fired from the Gaza Strip exploded in Sderot. The IDF responded to the rocket and attacked dozens of targets in the Strip. Senior officials in the IDF said that following the wave of retaliatory strikes, that Hamas "suffered the worst blow since Operation Protective Edge."