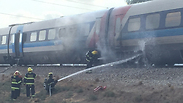 Fighting the blaze
Photo: Liran Cohen
Three firefighting forces worked on Thursday evening to extinguish a flame on an Israel Railways train wagon near Hadera.

Controlling the blaze

The passengers were all evacuated from the Haifa–Be'er Sheva train, which stopped nearby an industrial area in Hadera. There were no injuries.

Israel Railways reported that a replacement train was sent to collect the passengers who were evacuated to bring them to Binyamina.

Because of the incident, trains throughout the country are experiencing significant delays.

It appears that the source of the conflagration was in the lower part of the train, near to the brakes. According to Israel Railways, a fire can be caused by a stuck brake, inter alia.