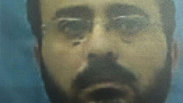 Waheed Borsh
Photo: Shin Bet
Israel rejects immunity for indicted UN engineer in Gaza
Following Waheed Borsh's arrest for siphoning UN funds to Hamas terror infrastructure, UN request for immunity for its former employee is rejected; 'Israel rejects the claim that a person assisting a terror organization recognized by the international community such as Hamas could enjoy immunity.'
The Israeli government on Thursday rejected a UN request for diplomatic immunity for a Palestinian engineer who worked for the UN in the Gaza Strip, but is now in prison after being accused of assisting the territory's Islamic militant Hamas rulers.

Israel arrested 38-year-old Waheed Borsh, who worked for the UN development agency (UNDP), on July 16 on suspicion of aiding Hamas. The government announced on Aug. 9 that he had been indicted on charges of assisting the militant group.

Israel's Foreign Ministry spokesman Emmanuel Nachshon said, "Israel rejects the claim that a person assisting a terror organization recognized by the international community such as Hamas could enjoy immunity."

Israel's Shin Bet intelligence agency said that Borsh used UNDP resources last year to build a marina for Hamas' naval forces. In addition, the Shin Bet alleged that at Hamas' request, he persuaded his managers to prioritize the reconstruction of houses damaged in conflicts with Israel in areas where Hamas members lived.

UNDP said in a statement on Aug. 9 that it was "greatly concerned" by the allegations, that it was investigating them, and that it has "zero tolerance for wrongdoing" in its programs and projects.

Nachshon said the UN suddenly claimed in a letter Wednesday that Borsh is entitled to diplomatic immunity. The claim was examined by jurists who determined it is "unsubstantiated," he said.

"It is outrageous that a man assisting a terror organization could benefit from UN immunity," Nachshon said. "It is clear that immunity is not a license to commit acts of terror."

Israel's UN Ambassador Danny Danon said the UN legal office claimed that any UN employee should receive diplomatic immunity from local authorities and that until Borsh's release from prison, he should be granted visits by the organization.

Shortly before Borsh's arrest, Israel charged the Gaza manager of the international charity World Vision for allegedly funneling millions of dollars to the group.

Danon said he has been in touch with international aid organizations operating in Gaza and advised them that, "Any dollar spent, and any local hire by an international organization, must be monitored to ensure they fulfill the purpose of aiding the residents of Gaza and not fund terror activities."