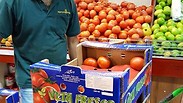 Tomatoes to be imported from Turkey en masse
Israel to import tomatoes from Turkey amidst shortage
Due to a crop destroying virus and government plans to buy cheaper produce from Jordan, Gaza, and the Palestinian Authority as opposed to Israeli farmers, there is expected to be a shortage of tomatoes in Israel during the high holidays; the government has decided to import thousands of tons of tomatoes from Turkey to mitigate shortage.
The Ministry of Agriculture announced that Israel will be importing tomatoes without tariffs to mitigate the chances of a tomato shortage during the high holidays as a result of poor harvests.

Supersal supermarket chain has already begun importing 250 tons of tomatoes a week from Turkey, while the Rami Levy chain is importing 160 tons of tomatoes a week. The Victory supermarket chain said that they do not expect to receive a steady supply from the growers from whom they receive produce from directly.

It should be noted that tomatoes from Turkey aren't cheap – between five to seven shekels a kilo. The price at the Israeli wholesale market for tomatoes is between five and a half to six shekels a kilo.

The reason for the relatively high price of tomatoes at the wholesale markets is due to the shortage in locally produced tomatoes. This shortage was caused by a virus which cut tomato production in half.

Israeli producers blame the outbreak of the virus on cheaper tomatoes imported from Jordan. The government created an initiative to import produce from Jordan, the West Bank, and Gaza as produce from these places are cheaper, thus lowering the overall cost of living. However, this policy has both literally and figuratively left Israeli farmers in the dust.

The hot weather is also considered to be a contributing factor in the poor tomato harvest.

Secretary General of the Vegetable Growers' Association Meir Yifrah has criticized the Ministry of Agriculture's decision.

"Instead of fixing Israeli farmers' problems, and instead of addressing the fact that there are fewer farmers in Israel today than ever before, the ministry decided to incentivize Turkish farmers," he said.

Yifrah points to a significant decrease in tomato crops this year, and says that relying on domestic inventory isn't enough.

The Ministry of Agriculture responded by saying "the ministry has alerted importers on the easing of quotas on foreign tomato imports (something which is done for any vegetable with which there is expected to be a shortage). Additionally, the ministry has issued a request to ease quotas on honey tomatoes and to exempt them from quotas following worry of a shortage after the holidays."

The ministry also spoke about a possibility of there being a cottage cheese shortage, saying "there is a possibility that there will be a 15% cottage cheese shortfall between the holidays of Yom Kippur and Simchat Torah since the holiday period typically sees workers shortages."