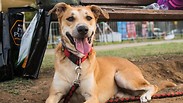 A dog celebrating National Dog Day in Tel Aviv
Photo: ELAN/TPS
Tel Aviv held a festival celebrating its canine population on National Dog Day on Friday.

Festival director Tal Hollander says that the city is among the world's friendliest to dogs and that it is home to the highest number of dogs per capita in the world, with an average ratio of one dog per 17 residents.

"The reason Tel Aviv is so dog friendly is because Israelis love to care for others," said Hollander. "It is fun to care for someone else, and a dog is man's best friend. We also have incredible beaches meant for dogs, where dogs and people swim together."

The city-wide dog day was celebrated at the Bnei Dan Dog Park with many attractions for the city's four-legged residents.

the animals were able to luxuriate in a special dog spa set up for the occasion, and dog sushi was available for purchase.

An exhibition displayed dog-friendly startups, and a bakery for dog treats sold products on site.

Tel Aviv has a record of putting major efforts into the well-being of its canines. All of its shelters have a "no kill" policy and its vets are available 24/7 to treat injured dogs. The city also maintains a complaints line for residents to report harmful treatment of dogs.

There are also 70 dog parks in addition to the dog-friendly beaches in tel Aviv.

Michael Bachner contributed to this article.