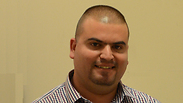 A Christian Arab has been nominated to become the legal advisor to the Ministry of Development in the Periphery, the Negev and the Galilee, making him the first Arab ever to occupy the position of a legal advisor in a government office.

Maron Halifah, a 34-year-old resident of Haifa, began his career in 2005 under then Deputy Prime Minister Shimon Peres. He then moved to the President's Residence where he served as deputy legal advisor and in 2009 returned to his former position which later evolved into the aforementioned office under the leadership of Silvan Shalom.

Three years ago Halifah switched positions once again and became the legal advisor in the northern district to the Israel Fire and Rescue Services before taking on his new post.

"This is a pride which has broken a kind of glass ceiling for the first time," Halifah commented. "I hope that this will open the way for others to reach the top and shatter the conventions. I feel at home in the office and everyone is like one big family. It is fun to be here and to work for residents of the periphery."

Halifah added that for him, working for the state was second nature and was a goal which had been instilled into him from a young age.

"I grew up in a family that educated me to contribute and to integrate into the country in any way possible. I entered public service after tests and bids as is completely standard procedure. Since then I progressed with hard work and no rest," he explained.

"I never ever felt different because I was part of a minority, I never ever felt any discrimination, and I think that the state does encourage minorities to work in the public sector," he continued. "I think that there is high potential for academics in the sector and they need to be integrated into middle and senior levels. I suggest to everybody to stand for public office and not be scared."

Interior Minister Aryeh Deri, who heads the ministry, praised Halifah's nomination. "Just as Jews, Arabs, Druze and Christians live in the Negev and the Galilee, this is how it is in our ministry where everybody can be found," he said. "I hope that more and more groups and committees will be integrated into the government offices in senior positions."

According to recently published data, a marked increase by 14% began since January 2015 of Arabs joining the public sector. The data serves to refute claims made by Arab MKs to the contrary.