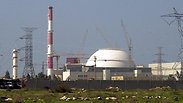 Iran's nuclear reactor
Photo: AP
Iran announced on Sunday afternoon that the state has arrested a member of the team that negotiated a landmark nuclear deal with world powers on suspicion of spying, a judiciary spokesman said.

The suspect was released on bail after a few days in jail but is still under investigation, Gholamhossein Mohseni Ejei said at a regular weekly news conference, calling the unidentified individual a "spy who had infiltrated the nuclear team," state media reported.

On August 16th,the Tehran General Prosecutor announced the arrest of a dual-national on suspicion of being linked to British intelligence, but did not specify whether or not the suspect was a member of the Iranian nuclear program.

Britain announced that it was trying to get more details on the arrest of the man who holds dual citizenship, which the Iranians claim is linked to British intelligence.

The historic nuclear deal between Iran and the West was signed after two years of negotiations and amid intense opposition by Israel and some Arab countries. The agreement removed many of the international sanctions, while Iran had to significantly scale back its nuclear program, though not halt it altogether.

Earlier this month, following rumors, Iran announced that it had executed nuclear scientist Shahram Amiri after having been found guilty of spying for the United States and passing information to the West about Iran's nuclear program.

Amiri, who was an award-winning physicist with the Atomic Energy Organization of Iran and possessed the highest possible security clearance, disappeared in Saudi Arabia in 2009 while on Hajj. Shortly thereafter, he surfaced in the United States and was alleged to have begun spying for the US government. Washington has denied the allegations and said that Amiri was free to return to Iran whenever he desired.

In 2010, amidst reports of harassment of his family in Iran over his alleged spying, Amiri returned where he was initially hailed as a hero who was kidnapped and released. During an airport press conference, Amiri claimed to reporters that he had been kidnapped and tortured. He further claimed that he was offered to stay in the US and $50 million. "I suffered extreme physical and mental torture," said Amiri, who also claimed that the CIA tried to persuade him to engage in propaganda against Iran. "I have documents to prove that I was not in the United States willingly and that I was under constant surveillance by armed security agents."

Amiri worked at the Iranian nuclear facility near Qom, which was uncovered only in 2009 by Western powers. During his stay in the US, media reported that he had defected to the West and provided information on Iran's nuclear program and briefed inspectors of the International Atomic Energy Agency (IAEA) before their first visit to Qom.

After his return to Iran, Amiri disappeared yet again and was held for years out of contact with his family. Recently, as was reported, he was hanged and his body was returned to his mother.