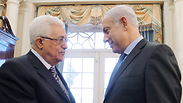 Netanyahu and Abbas
Photo: Getty Images
Netanyahu and Abbas may meet in Moscow in October
After years of stalemate, peace talks between Israel and the Palestinians may once again be on the horizon; in a surprise twist, Russian President Vladimir Putin is set to be the interlocutor between the two sides; pre-negotiations are being conducted before the expected October meeting in Moscow.
Contacts have recently been established regarding a possible meeting in Moscow between Prime Minister Benjamin Netanyahu and Palestinian Authority President Mahmoud Abbas.

Ynet was informed on Sunday that the rare meeting is supposed to take place around October.

The development comes just one week after Egyptian President Abdel Fattah al-Sisi announced Russia's willingness to host direct talks between the Palestinians and the Israelis.

It was previously revealed that negotiations for a tripartite meeting between Mahmoud Abbas, Netanyahu, and al-Sisi in Cairo in order to try and jump-start the peace process.

Early negotiations are currently underway to set up a tripartite meeting in Moscow with Russian President Vladimir Putin. According to both Israeli and Palestinian officials, the Palestinian Authority chairman has expressed his willingness to attend talks.

Officials believe that Abbas prefers to hold the summit in Moscow rather than Cairo because of al-Sisi's attempt at pushing his own peace initiative at the cost of the French peace initiative. Abbas prefers the French initiative over the Egyptian one.

Abbas's request to jump start the peace process still includes prerequisites that Israel stop building in the settlements, and to hold a discussion to create a time table to "end the occupation."

Israeli officials reported that Netanyahu was holding discussions with Putin several days ago when the issue came up, yet the possibility of a meeting between Netanyahu and Abbas in Moscow is still "speculation" as it is "still too early to tell."

However, the officials stressed that "the prime minister is ready to hold direct negotiations with Mahmoud Abbas at any time.

MKs Ksenia Svetlova (Zionsit Union) and Yossi Yona (Zionist Union) met with Mahmoud Abbas in Ramallah after receiving an official invitation from him last Thursday.

MK Svetlova said that "there are a lot of peace proposals on the table to solve this conflict, and it's important that we don't miss this opportunity. We were happy to hear that Abbas is continuing to renounce violence and is beholden to a solution."

Svetlova also said that they discussed Putin's peace proposal to invite both Netanyahu and Abbas to Moscow. She also calls on Netanyahu to accept the Russian and other initiatives.