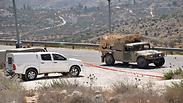 Scene of incident
Photo: Inbal Reuveni/TPS
IDF soldier who shot charging Palestinian to death suspected of negligent manslaughter
The soldier who shot a Palestinian man who ran toward him and failed to respond when called upon to stop was questioned Sunday for negligent manslaughter; investigators look into Palestinian claim that man was unarmed and shot in his back; soldier claims he sensed a clear danger when he refused to stop.
An IDF soldier who shot dead Eyad Zakaria Hamed, a 38-year-old Palestinian, at the entrance to Silwad, adjacent to Ofra, in the West Bank (between Jerusalem and Nablus) on Friday is being questioned for negligent manslaughter.

The soldier, from the Netzah Yehuda Battalion within the Kfir Brigade was investigated by the military Criminal Investigation Division (CID) over the claim that the Palestinian was unarmed and shot in his back.

The CID is seeking to speak to Palestinian witnesses present during the incident while also compiling testimony from the soldiers present.

The Palestinian man's body was returned to the Palestinian Authority shortly after the incident since the IDF said that the initial investigation did not indicate that the man was a terrorist.

In a statement by the soldier's defense attorney, the soldier was said to have acted in a manner expected of him given the circumstances. "The soldier carried out what was demanded of him and acted in accordance with military instructions in light of the behavior of the Palestinian that aroused his suspicion and the risk he appeared to be posing," the statement said. "The experienced and appreciated soldier will return to meaningful service today."

During initial questioning, the soldier said he had called upon Hamed to stop but was forced to implement the procedures for opening fire when he the situation turned life-threatening.