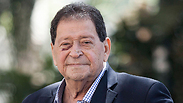 Benjamin Fuad Ben-Eliezer
Photo: AP
Benjamin Ben-Eliezer quit the race to become President of Israel and the last minute two years ago following an investigation being opened up against him on charges of bribery to the tune of millions of shekels from various Israeli businessmen, fraud, and breach of trust.

This investigation led to an indictment against him and the people close to him, including businessmen Avraham Nanikashvili, Djeki ben-Zaken and Roy Motzpi. According to the indictment, from 2007-2014, Ben-Eliezer received large sums of money from these businessmen while he was a minister in the Knesset.

He obtained the money in order to buy homes, including a large home in Jaffa with a seaside view which is worth millions of shekels. .

Ben-Eliezer claimed that he couldn't stand trial due to his poor health and requested to delay the trial. The Attorney General denied the request, but Ben-Eliezer still didn't go to any of his trial dates, each time blaming his deteriorating health.

In the end, it was decided that Ben-Eliezer could not stand trial and could not testify. Fuad's prosecutors claimed on Sunday that the prosecutors must return everything they took from Ben-Eliezer's estate, including hundreds of thousands of dollars in cash and various real estate assets.