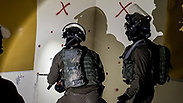 Home demolition of the terrorist who killed Micky Mark
IDF forces have destroyed the house of Mohammad Amairah, 38, in the village of Dura. Amairah was part of the terrorist cell which killed Michael Mark and severely injured his wife and daughter as they were driving in the West Bank two months ago.

The demolition was carried out by soldiers in the Yahalom unit and the 605 combat engineers battalion, alongside border police and COGAT.

Micky Mark's killer's home demolished

The demolition of the terrorist's house was carried out in conjunction under the direction of the political establishment. The one story tall house was located in the Wadi Sod area of Dura, an area where the IDF conducted extensive operations to find the terror cell.

Amairah was a part of the Palestinian Security Forces in the West Bank, and was arrested three days after he carried out his attack.





While initially saying he was the driver of the terror cell's car during the attack, following a Shin Bet investigation, he revealed that a man named Mohammad Fakih fired the deadly shots, killing Mark. He even turned over the weapon and vehicle used in the attack.

Fakih was killed during a shootout with Israeli security forces after barricading himself in his home in Surif.