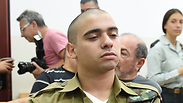 Sgt. Elor Azaria in court with his mother
Photo:Yair Sagi
Azaria trial: Security squad member says saw terrorist move, may had bomb
The Defense called Hebron civilian security contingency squad member Ashi Horowitz, who reaffirmed Sgt. Elor Azaria's claim that there was concern over the terrorist having an explosive device on his person prior to Azaria killing him.
The trial of Sgt. Elor Azaria, who was filmed shooting and killing a neutralized Palestinian terrorist in Hebron, continued on Tuesday. Following yesterday's testimony of Lt. M. in defense of Azaria, Tuesday saw Ashi Horowitz, who serves on the Hebron civilian security contingency squad, come up to the stand. Horowitz corroborated Azaria's claim that there was danger that the terrorist, who had already been neutralized and lying unarmed on the ground, still posed a threat.

Horowitz testified that he arrived on the scene shortly after the attack, carried out by two terrorists, the second of which died during attack. "I kept thinking the incident was over, until I heard my friends from the contingency squad say, 'He's moving, he might have a bomb on him.' The incident was far from over, and we definitely were not going home at that moment. I had my gun pulled out. More forces began to arrive, and like in any event, it became a mess as more and more forces got there, including ambulances, caretakers and soldiers. That's how the incident developed."

Horowitz stated that he had been on the scene for about half an hour, during which no professional or commanding official examined the body or gave permission to touch it. "At first, I thought the terrorists were (both) dead, but then people began shouting, about what could happen next," and that "The terrorist was moving."

He continued by saying, "I'm not sure who yelled it, but you can clearly hear the yelling on (the human rights organization) B'Tselem's video, in which our guys on the contingency squad warn the surrounding forces and people not to come close to the terrorist. After that, I had my back turned to him and was looking at the wounded soldier being evacuated. While this was going on, I heard a gunshot."

"The terrorist wasn't dressed compatibly with the weather in the area," recounted Horowitz. "The forecast given in the media that day spoke of a heat wave, but the terrorist was dressed in a suspicious manner, with a thick, black, buttoned up coat.

Horowitz stated that when one of his friends from the contingency squad came close to the terrorist and touched him, "There were shouts not to go near and not to touch him. My friend was told to move away and not to try and turn him over. He was told, 'It isn't a puppet, it's a terrorist.' He was warned of the possibility that there might be an explosive device that (my friend) could trigger by touching the terrorist."

He also refuted claims made by Former Yehuda Brigade commander, Col. Yariv Ben-Ezra, who testified that soldiers serving in the Hebron area were instructed to evacuate neutralized terrorists as quickly as possible to avoid having their presence provoke local Palestinians. "Hebron creates a lot of terrorism, and I don't think it's because of postponing medical treatment or evacuating a body. The brigade commander is mixing up different political positions. I appreciate him, but he didn't manage to overcome the terrorism in Hebron during his time there."

When asked about previous testimonies that contradicted Azaria's, such as the testimony given by Kfir Brigade company commander Tom Na'aman, Horowitz disregarded them, specifying that Na'aman in particular was led by his leftist political views. "What we have here is a soldier who has been sitting (in jail) for several months now despite his justifiable actions," he told the court. "However, I still think that's preferable than having the brigade commander stand here giving explanations as to why Jews were blown up and killed in the incident."

The court was adjourned after about an hour and a half, due to noise coming from a protest held outside the courthouse. The police was called to disperse it.

Horowitz's testimony came a day after Lt. M. took the stand and was cross-examined on conflicting testimonies he gave over whether there was any indication that the neutralized terrorist posed any further threat.