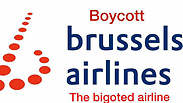 Calling to boycott Brussels Airlines
Brussels Airlines turns around on halva boycott
After being pressured by pro-Palestinian BDS groups to boycott Israeli halva snacks on their flights, Brussels Airlines has reversed its decision, saying it will continue to serve the Israeli made sweet; move comes after diplomatic and social pressure were applied to the airline.
After Israeli political preassure and threats from Israelis to boycott the airline, Belgian carrier Brussels Airways has reversed its decision to stop supplying Ahva brand Halva on its flights.

The airline announced that it would cease providing the product as a part of its vegetarian meal after a Palestinian Solidarity Movement activist saw the product on a flight from Israel to Belgium. The activist claims that the product, produced in the Barkan Industrial Park outside of Ariel, is a settlement product on occupied territory.

In a letter sent by the company to Israeli Ambassador to Belgium Simona Frankel, the airline said "it is clear that Ahva remains one of our trusted providers, without distinguishing the origin of the product, and therefore, we will continue to have Ahva products on our flights, especially in light of the critical role it plays in the (Israeli) community."

"There are many companies which aren't aware of the conditions under which the products they are buying from Israel are produced," Palestinian Solidarity movement activists wrote in a statement which caused the airline to temporarily halt serving the Halva.

"The Belgian foreign ministry must intervene and monitor to make sure that there will be no trade with companies based in the settlements."

Brussels airlines responded, saying "our company provides travelers with a vegetarian option, including dessert. On the Tel Aviv-Brussels line, the local catering company accidentally included a dessert called 'vanilla halva' which didn't comply with the food order we gave them."

The company added that "the customer who came to us with the complaint brought to our attention that the aforementioned dessert is a controversial product. As a company which serves an international audience full of people from a wide rang of backgrounds and cultures, it is our responsibility to present products which will be amicable to all, and therefore, we decided to change desserts."

Following initial reports of the Brussels Airlines boycott of the Israeli product, Jews and Israeli from around the world took to social media to respond angrily to the decision.

The Brussels Airlines Facebook page was chaotic, with people calling for a boycott of the company until it apologizes for boycotting the Israeli made product, amidst claims that the halva boycott was instituted as a result of racism.