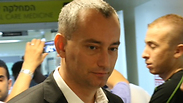 Nicolay Mladenov
Photo: Motti Kimchi
Israel on Tuesday said remarks by the UN Mideast envoy "distort history" after he declared that Israel's settlement-building is a main obstacle to peace with the Palestinians.

The spat drew new attention to Israeli settlement construction in the West Bank and east Jerusalem, which has continued to move forward during a more than two-year freeze in Mideast peace efforts. The Palestinians seek both areas as part of a future independent state and say that the construction undermines hopes for a peace deal.

In a briefing to the Security Council on Monday, UN Mideast envoy Nicolay Mladenov said that settlement expansion by the Israelis is among the biggest obstacles to peace with the Palestinians.



Mladenov listed Israeli plans to build hundreds of new houses in the West Bank and east Jerusalem, as well as steps Israel is taking to legalize outposts that were built without permission by settlers.

"It is difficult to read in these actions a genuine intention to work toward a viable two-state solution," Mladenov said. "This appears to reinforce a policy, carried out over decades, that has enabled over half a million Israelis to settle in territory that was occupied militarily in 1967."

David Keyes, spokesman for Prime Minister Benjamin Netanyahu, said the comments "distort history."

"Jews have been in Jerusalem, Judea and Samaria for thousands of years and their presence there is not an obstacle to peace," Keyes said in a statement.

"The obstacle to peace is the unending attempt to deny the Jewish People's connection to parts of their historic land," Keyes added.

Israel captured the West Bank and east Jerusalem, home to holy sites sacred to Jews, Muslims and Christians, from Jordan in the 1967 Six-Day War. In a position that has wide international backing, Palestinians want the territory for their future state, along with the Gaza Strip and east Jerusalem as their capital.

Israel annexed east Jerusalem—a move that is not recognized internationally—and maintains a nearly 50-year military occupation of the West Bank.

Since that time, some 120 settlements have been erected in the West Bank, now home to about 400,000 people. Some 200,000 Israelis live in east Jerusalem. Israel considers both sides of the city part of its eternal, undivided capital.

The Palestinians, along with most of the international community, view Israel's settlements in the West Bank as illegal or illegitimate. They say the increasing number of settlers make it increasingly difficult to establish their own state in these territories and raise questions about Israel's seriousness about ending its occupation.

Netanyahu has endorsed the idea of a two-state solution, but has given no details on his vision of a final border arrangement while continuing to build. He says settlements and other core issues at the heart of the conflict, like security arrangements, should be resolved in negotiations.

US-negotiated peace talks collapsed over two years ago, in part over the issue of settlements.