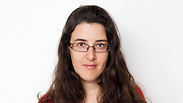 Syrian rebel leader quits after interview with Israeli
Following an interview with an Israeli researcher, Jaysh al-Islam spokesman Islam Aloush has quit his position 'for the public interest' as the Shia press has a field day; Shia press claims interview is proof of jihadist-Zionist-American conspiracy against the Assad regime.
Its hard to keep track of the number of rebel factions fighting in the Syrian civil war. However, one of the major rebel confederations, comprised of over 40 rebel groups with Sunni Salafist Islamic ideologies is Jaysh al-Islam - or Army of Islam.

This enormous confederation of fighting groups operates primarily in the areas around Damascus and controls territory in Lebanon. Along with fighting against the Assad regime, they also fight against ISIS and the Kurdish People's Protection Units (YPG). They are allied with groups such as Jabhat Fatah al-Sham (formerly known as Jabhat a-Nusra), Ahrar a-Sham, and both the Turkish and Saudi governments.

Recently, Israeli researcher Elizabeth Tsurkov at the Forum for Regional Thinking held a rare interview with Jaysh al-Islam spokesman Islam Aloush.

"I've been researching Syria for years and have been in contact with hundreds of Syrians all over the country,as well as refugees. I've never hidden my Israeli identity," Tsurkov said.

"Over the years I've interviewed activists, fighters, civic leaders, and politicians – almost always on condition of anonymity," she explained. "This is out of their fear that they would be viewed as 'collaborators' with Israel. The only ones who let me use their names have been Syrian refugees in Europe and Turkey. There's a really big taboo against talking to Israeli media or even with Israelis. It's seen as normalization with Israel and a lack of solidarity with the Palestinians."

Tsurkov went on to explain how she met with Syrian political and military leaders in southern Turkey.

"None of them wanted to be photographed. That's why I was so happy and surprised when Islam Aloush – the Jaysh al-Islam spokesman – allowed me to use his name when I published my interview with him. I thought that demonstrated bravery, and hoped that it wouldn't negatively impact him."

During the interview, Aloush expressed pessimism regarding the possibility that the warring sides would come to a political solution to end the war, and said that the Syrian regime is a "purely security and militaristic institution."

Meanwhile, he called Hezbollah a "gang which opposes the freedom which all nations aspire to, including the Syrian nation."

He also rejected accusations that his organization – which controls large swaths of the Damascus countryside – acts with the same tyranny and impunity towards the civilians in the area that the Assad regime does.

Tsurkov also asked Aloush what Jaysh al-Islam's position is in regards to a peace agreement between Israel and Syria. He said that "this issue and other issues of Syrian foreign policy will be determined by the government institutions which will be founded once the Syrian revolution succeeds and the Syrian people are able to vote freely. We will not deny any decision made by the Syrian people, as the Assad regime has done for the past 40 years."
Shiite reactions
Media outlets affiliated with the Assad regime, Hezbollah, and Iran jumped at the opportunity to dirty the name of Jaysh al-Islam, and covered the interview extensively, focusing on Aloush's answers as they relate to Israel.

Hezbollah newspaper Al-Akhbar had the headline "Islam Aloush: I'm not opposed to peace with Israel," while Syrian newspaper Al-Watan wrote "Speaking from an Israeli stage: Jaysh al-Islam isn't optimistic that a political solution to the Syrian crisis will be reached, and doesn't oppose peace with Israel."

While Tsurkov indeed translated the interview from Arabic to Hebrew for Israeli audiences, she said that Iranian, Hezbollah, and Syrian media outlets completely distorted the interview.

"These media outlets have an interest in 'proving' the existence of a jihadist-Zionist-American conspiracy against the Assad regime. The regime's propaganda has been claiming this since the peaceful uprising in Syria began in March 2011. They've jumped on this (interview) and are holding it up as proof (of the conspiracy) despite the fact that I'm a researcher and human rights activist who researches Israeli policy vis-à-vis the Palestinians."

A few days after the interview as published and made waves in Arabic media, Aloush published a message on twitter whereby he officially resigned from his position as spokesperson ''for the public good'', creating confusion and surprise throughout Jaysh al-Islam.

"There are many Syrians who are prepared to speak with me, and I have a lot of close Syrian friends," Tsurkov said. "However, only a small portion of them are prepared to be open (about our friendship) out of fear that they will be suspected of being spies, especially in light of the prevalent conspiracies circulating around Syria suggesting that Israel supports Assad and is preventing his downfall."