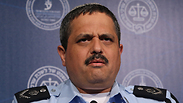 Roni Alsheikh
Photo: Tzvika Tischler
Rage at the Police Commissioner
After making comments seen as derogatory to the Ethiopian community, Police Commissioner Roni Alsheikh is under criticism from activists and politicians; 'The commissioner needs to be reminded that his job is to protect and serve all citizens of the country, not just the white Jewish population.'
Leading activists from the Ethiopian community and the opposition sharply criticized Police Commissioner Roni Alsheikh over comments made about police "naturally" suspecting Ethiopians more. Many demanded his removal and said his words "prove that the police are dangerous to the (Ethiopian) community."

At a meeting of the Israel Bar Association, Commissioner Alsheikh said, "Studies have shown that immigrants are more involved in crime," and therefore "it is natural that (police) suspect them more."

The Police Commissioner then sought to clarify his words, with the police announcing that "the commissioner candidly admitted that after a thorough self-examination, we discovered that there is indeed over-policing with regard to members of the Ethiopian community and the Israel Police. Let there be no doubt, the statements made by the commissioner were not intended to harm Ethiopian Israelis, but were made out of candor in order to improve the relations between officers within the organization."

Earlier this month, a ministerial committee approved a series of 12 recommendations in order to promote the integration of Ethiopian immigrants and to strengthen the community's trust in the police.

This is due to the allegations and findings which point to over-policing against Ethiopian youth, including figures demonstrating that more than 30% of prisoners in jail are Ethiopian minors.

Gadi Yavrakan, one of the more prominent activists in the Ethiopian community said, "this isn't a particularly smart police commissioner because he openly stated that Israel is a racist state. We are not migrant workers, we are Jews who returned to our homeland after a 2,500 year exile. Now it is obvious why the police who killed Yosef Salamsa were not brought to trial, when there is a police commissioner who 'understands' why police tend to use violence against blacks and Arabs."

Social activist Avi Yalu, a member of the ministerial team to eradicate racism, said, "These are things that should not have been said and he needs to apologize. The officers in the field translate statements like this into racist actions. World views can't be erased in one day. What is outrageous with the commissioner's statement is that according to him, stopping blacks because of the color of their skin is legitimate. There are hundreds of cases against young people just because of profiling. This is a phenomenon that needs to be stopped and not encouraged."

Former MK Pnina Tamano-Shata said, "With the commissioner's statements, he is giving a green light to police officers to turn our children into immediate suspects, and from there, into the punching bags of errant, violent policemen. Your children, Commissioner Alsheikh, are no better than mine. Dark-skinned children are not born with criminal genes or are predisposed to criminal activity. Do a thorough internal investigation, and you'll see there are police officers that harass kids and teenagers who are Ethiopian and show them the way to being behind bars.

"The commissioner's attempt to clean the police's conscience and rationalize violence by saying 'immigrants are criminals proves that the police are dangerous to blacks in Israel and anyone whose appearance can endanger them."

On the other hand, Minister of Internal Security, Gilad Erdan, defended the Police Commissioner, saying that he did not justify the phenomenon of "over-policing" against the Ethiopian community. "In fact, he did the opposite. He boldly said there is such a problem and the police are taking care of it. The commissioner's explanation was not meant to justify over-policing, but rather, to describe the moods of officers that caused them to act wrongly. Any other explanation of the commissioner's statements are not correct and creates distortion."

Ami Palmor, the Director General of the Ministry of Justice, who is currently the head of the ministerial team to eradicate racism against Ethiopians, leveled harsh criticism against Alsheikh's statements and said, "The report we've drafted shows the grim reality of institutional racism against Ethiopians. The data conclusively show that these are not people with criminal DNA."

The opposition also directed harsh criticism against Alsheikh, with MK Yitzhak Herzog calling the commissioner to clarify and amend his remarks because "it cannot be allowed to happen that someone thinks it is legitimate to be more suspicious of an Ethiopian or an Arab citizen. Any person of standing or influence must work to eradicate racism and profiling of every kind."

MK Shelly Yachimovich remarked, "It is sad that instead of fighting against the phenomenon of profiling citizens based on their skin color, the police commissioner is looking for psychological reasons to continue. If you take out Mizrahim, Ethiopians, Arabs and others, then according to the commissioner's definition, there is no one else to suspect. There is no other way to put it. But according to the police commissioner, he himself could be falsely arrested if he were walking around of uniform."

Chairman of the Joint List, MK Ayman Odeh, said, "It is not surprising to hear that the commissioner thinks a racist attitude toward the Ethiopian community is natural. The commissioner needs to be reminded that his job is to protect and serve all citizens of the country, not just the white Jewish population."

MK Bezalel Smotrich however, saw things differently, saying, "Finally a commissioner brave enough not to ignore the unpleasant reality, recognizes it and acts to correct it for everyone's benefit."