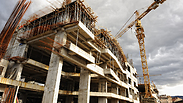 Archive photo
Photo: Shutterstock
The Ministry of Interior's Settlements Subcommittee approved on Wednesday morning some 120 new housing units in the West Bank and of the approval of entire new neighborhoods that have already been constructed. Thirty-two units in Efrat and 36 in Nofim were rejected.

The mayor of Beit Aryeh, Avi Naim, said, "It's a drop in the sea. We've been in a deepfreeze for months now."

The construction that was approved is in relatively large settlements. Laid before the subcommittee were applications to approve 31 units in Beit Aryeh that had already been approved, 36 in Nofim in Samaria, 20 in Givat Ze'ev adjoining Jerusalem and 32 in Efrat in Gush Etzion.

All of these plans were for new units, and the subcommittee approval is the final stage before construction begins. A further 234 apartments were approved in a senior citizens' home in Elkana.

Apart from these, the subcommittee retroactively approved existing housing units in those settlements. Amongst them was a full neighborhood, Ofarim, in Beit Aryeh that includes 178 housing units.

Naim commented, "I don't think that we need to apologize to anyone. And I expect that they'll soon approve additional construction plans in Judea and Samaria."

Criticizing the approval, NGO Peace Now commented that Prime Minister Benjamin Netanyahu's government "continues to plan and build all over the West Bank, while also giving settlers the message that any construction done without planning will be retroactively legalized."

Nickolay Mladenov, the United Nations coordinator for the Middle East peace process, told the UN Security Council on Monday that Israeli settlement expansion has surged in the past two months since a key report called for a halt.

The report by the diplomatic Quartet—the European Union, Russia, the UN and the United States—said construction of settlements on land earmarked to be part of a future Palestinian state is eroding the possibility of a two-state solution.

In response, Netanyahu's office called criticism of Israeli settlement building "absurd," particularly related to east Jerusalem.

The US issued its own response to Israel's construction, describing its actions as "deeply concerning."

President Obama's spokesman, Josh Earnest, said "This significant expansion of the settlement activity poses a serious and growing threat to the viability of a two state solution."

"We are particularly troubled by the policy of retroactively approving illegal outposts and unauthorized settlements," Earnest continued.