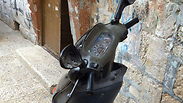 A video filmed overnight Tuesday by a resident of Jerusalem's Old City allegedly shows two Border Police officers striking a scooter and breaking its mirrors.

The Border Police have stated that they "take this incident seriously and are distressed by it." They related that the footage was transferred to the Police Investigation Division (PID) to be checked. The Jerusalem District Commander of the Israel Police, Yoram Halevy, ordered that the scooter's owner, Kamal Jamal, be compensated for damages, depending on the results of this check.



The video shows the vandalism and plays the sound of breaking glass, but the Border Policemen are not seen actually striking the scooter. As evidence, residents presented photographs of the scooter as they found it in the morning with its mirrors broken.

Jamal's brother, Najib Jamal, said that he saw what happened but didn't file a complaint with the PID because "I don't believe that it'll help."

The Border Police were on a widespread operation in the Old City that night to prevent stone-throwing.