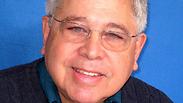 American-Israeli terror victim's son seeks ouster of Palestinians from Scout movement
Richard Lakin's son reports Palestinian Scout branch for promoting training course dedicated to the Armon Hanatziv killer, Baha Alyan, calling him a 'martyr;' 'If Palestinian branch is allowed to remain your organization is effectively a co-sponsor of this terror promoting course.'
The son of the American-Israeli man, Richard Lakin, who was killed in a Palestinian attack last year said Wednesday he has asked the global scout movement to expel its Palestinian branch after local members dedicated a recent training course to one of his father's killers.

Micah Lakin Avni said the Palestinian scout branch is violating the world movement's core ideals.

"The scouts has really been for more than a century an international, nonpartisan organization dedicated to teaching kids to be good citizens of their neighborhood, of their world," Avni said. "Tragically, they are teaching their kids to hate and be violent."

A Palestinian scout troop in east Jerusalem held a training course last week that was dedicated to Baha Alyan—one of two Palestinian attackers who shot and stabbed passengers on a Jerusalem bus last October.

Avni's father was among three people killed in the attack. Alyan was killed by a security guard, while a second assailant survived and is now serving a life sentence in an Israeli prison.

Palestinian scout leader Ahmed Mashahreh said Alyan was active for many years in the scouting movement and that the recognition had nothing to do with the bus attack.

He said the activity was a "pure scout course" that talked about volunteer work and other activities.

"This had nothing to do with politics," Mashahreh claimed. "During his lifetime, Baha was very active in scout activities. That's why we picked his name, not because of what he did on the last day of his life."

The attack came at the height of what had become a nearly year-long wave of violence which Israel believes to have been fueled largely by Palestinian incitement.

In a letter to the 164-member World Organization of the Scout Movement, Avni described his father, a retired school principal and Israeli-Palestinian coexistence advocate, as a "gentle-hearted man."

He attached a screen shot from the Palestinian Scout Association's website, which promotes the course. The screenshot included a picture of Alyan in scouting uniform and describes him as a "martyr," a fact which seems to undermine Mashahreh claims.

"Should you allow the Palestinian Scout Association to keep its membership," he wrote, "then your organization is effectively a co-sponsor of this terror promoting course."

In an emailed response to The Associated Press, Stephen Peck, the movement's director of communications, said the group is investigating and working on the matter with the relevant people. "We appreciate the gravity of the allegations and will address the issue accordingly," he said.

Jibril Rajoub, head of the Palestinian Scout Association, did not immediately return messages seeking comment.