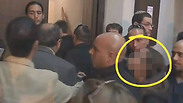 The woman who spat on MK Ahmad Tibi four years at a conference has been sentenced to 60 hours community service, though the court has refrained from entering a conviction on her record "out of concern for her future."

The Magistrates' Court for Youth in Tel Aviv made the judgment a few weeks ago, though it was only recently cleared for publication. The offending incident took place in 2012 at Bar Ilan University when the then-17-year-old offender spit on the MK as he exited the conference hall.

The expectoration

She was tried for attempting to attack a civil servant. After undergoing an evaluation and expressing remorse for her actions, the probation service and the police recommended community service. Tibi did not file a complaint against her.

The girl, who was familiar to the Hilltop Youth in the West Bank, has participated in various activities against African infiltrators and the evacuation of settler outposts. "(Tibi) should say thank you; he deserves much worse; he deserves a death sentence. There have to be people who give the enemies of Israel what they deserve." she told Ynet shortly after the incident.

Itamar Ben-Gvir, the woman's lawyer, commented, "From the beginning, it seemed to me that filing an indictment was a superfluous step by the police. Ahmad Tibi is a provocateur who provokes and incites and creates disturbances, and (that's proven by) the fact that the police prosecutor believed that she should scrap the case. However, I think that the result reached by the court is balanced and correct, and there's a concern here for a minor's future."

At the time, Tibi said in response to the incident, "I will not be daunted and will go anywhere, even if there are racists there. I will make my voice and that of the Arab public be heard with my head held high."