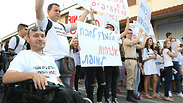 Students protest at Shevah Mofet on the first day of school
Photo: Avi Mualem
PM, Tel Aviv mayor clash over plans to accept migrant kids to top school
Municipality announces Shevah Mofet will stop accepting students from outside the city to make room for students from southern Tel Aviv—mostly children of asylum seekers; Netanyahu objects to turning the school into 'educational institution for infiltrators,' leading to exchange of accusations.
The school year began on Thursday morning with a protest at the Shevah Mofet high school in Tel Aviv against plans to turn it into an educational facility for asylum seekers, a decision that also led to a clash between Prime Minister Benjamin Netanyahu and Tel Aviv Mayor Ron Huldai.

The Tel Aviv municipality announced last week that starting the next school year, the school, with 75% of its students coming from outside Tel Aviv, will stop accepting students who are not residents of the city. This will be done to make room for students who live in southern Tel Aviv—most of them children of asylum seekers and illegal migrants—to attend the school.

The school's students and teachers decided to protest the decision, calling out "You don't close a school with 100 percent graduation rates." They waved signs that said: "We won't evacuate our home" and "Don't replace a winning team." The protest ended at 10am, allowing classes to begin.

"There is a bad atmosphere, but on the other hand we also know how to put this aside and begin the school year," said Max Sivan, the principal of Shevah Mofet. "This isn't just a school. There's a culture here, a long history, including a history of international achievements. This needs to be protected, this is a national asset. It's not just another school. I'm willing to take in any student, but don't ruin what we have."

On Wednesday, Prime Minister Netanyahu expressed his objection to turning the school into "an educational institution for infiltrators," supporting the position of Defense Minister Avigdor Lieberman.

This angered Tel Aviv Mayor Huldai, who responded with a harsh statement. "Unfortunately, despite the Tel Aviv-Jaffa municipality's requests to the prime minister, he chooses to release messages like a common internet commentator, instead of dealing with the problem of foreigners that he himself was among those responsible for," he said.

The Prime Minister's Office responded to this, saying "The Tel Aviv mayor and municipality need to be ashamed of the of the fact such an excellent educational institution is set to close, and for the inappropriate language of their statement. Thanks to the prime minister's policy, over 20,000 infiltrators willingly left Israel over the past decade. The prime minister will continue with this policy."

The Tel Aviv municipality responded to that, by saying "it was him (Huldai) who nurtured Shevah Mofet, as a way to help the immigrant population—and this he had done without help from the government.

"Huldai believes a different place can be found so Shevah Mofet can continue its praiseworthy activity, and there has already been a request made to the Education Ministry and the Amal school chain on the matter. Such a solution will not come to be on Facebook, and that was the reason for the mayor's harsh response.

"The municipality understands the parents' concerns, but the school is not going to close its doors in the coming years anyway, and all students currently attending it could graduate. There is also no objection to having the school continue its operations from another location."

A close confidant of Huldai accused Netanyahu of "not even knowing the facts. We don't know where the 20,000 infiltrators that left thanks to the prime minister's policies left from—certainly not from Tel Aviv."

Culture Minister Miri Regev, of Netanyahu's Likud party, decided to join in on the exchange of accusations, opining that "Huldai has abandoned the neighborhood and its residents."

Education Minister Naftali Bennett sided with Huldai, telling Ynet on Thursday morning that "It's important to clarify that there is no demographic change at the school at the moment. There are certain intentions or ideas from the municipality in that regard. The goal we all stive for is to keep Shevah Mofet running in the same way as it has been so far. On the other hand, we're obligated to follow the law and provide education."

Elvyra Kolihman, a member of the school's parents' committee, explained the decision to hold their protest on the first day of school. "We want to stress that until the mayor sits with us and we reach an agreement that the school won't change in the coming years—the fight will continue. This is a fight for the future of the school. We want to ensure that every child in the State of Israel that wants to go to this school—and feels like this is the best education—could do so. This is an excellent school that must not be closed or change its way of operations. The prime minister made it clear that the best solution is to leave the school as it is, and that's what should happen."

Students also took part in the protest. "We're protesting because we don't want them to change our school," says Itay Morbiya, who is starting his final year of high school. "I want my brothers to have the same education I had, with teachers who don't give up on you. I have friends who come here from Ashkelon and Ariel because they want to succeed; they want a good high school diploma. We shouldn't ruin this."

On Wednesday night, dozens of protesters arrived in south Tel Aviv to demonstrate against Huldai, calling him a "traitor" and carrying signs with his photo and the writing "Criminal." The protesters eventually took to burning photos of the mayor.




On Thursday morning, the CEO of the Ort school chain Tzvi Peleg turned to the head of the Tel Aviv municipality's Education Department, Shirley Rimon, suggesting a framework for Ort to take in asylum seekers' children this year.

"Ort Israel believes in giving equal opportunities in education to every child in Israel," Peleg said. "We're prepared to take in these students."

Shahar Chai, Itay Blumenthal and Attila Somfalvi contributed to this report.