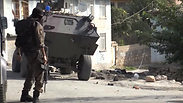 הרס דיארבקיר מעוז הכורדים ב טורקיה
The battle for Diyarbakir: A visit to Kurdish stronghold in Turkey
Analysis: As Turkey rolls into Syria with the stated goal of eradicating ISIS from the border region, many Kurds in Turkey view this as a Turkish attempt to eliminate the Kurdish presence on the Turkish-Syrian border; 'They claim they are fighting ISIS across the border, but if they were actually doing this, they would first do something about the ISIS network on our (Turkish) soil.'
DIYARBAKIR, TURKEY - On Aug. 24, Turkish tanks crossed into Jarablus, a Syrian border town, to drive out ISIS militants. The Kurds, however, believe this action, called "Operation Euphrates Shield," is actually targeting them. Caglar Demirel, the parliamentary group deputy chair of the pro-Kurdish People's Democratic Party (HDP), said in an interview with Yedioth Ahronoth that she believes Turkey is not sincere in its fight against ISIS.
Follow Ynetnews on Facebook and Twitter

"They claim they are fighting ISIS across the border, but if they were actually doing this, they would first do something about the ISIS network on our (Turkish) soil," she said. Turkish officials stated that the Syrian operation aims to clear "all terrorists." Ankara has long accused the Syrian Kurdish YPG, or the Kurdish People's Protection Units, of being linked to the PKK, where it considers a "terror organization."

ISIS has targeted Kurds in Turkey at least four or five times since the June 2015 general election. The latest was a horrific attack on a wedding party in Gaziantep just a week ago that killed more than 50 guests, including 29 children. Turkish President Recep Tayyip Erdogan visited Gaziantep on Sunday to pay his condolences, but Demirel argues, it is an empty gesture.

This dishonest approach is deeply troubling to the Kurdish psyche. Though Erdogan never accepted the HDP as a partner to peace during negotiations with imprisoned PKK leader Abdullah Ocalan, Kurds were happy about the talks in general, and fighting ceased for a while.

But Erdogan didn't seem to get what he wanted, and the talks derailed. What really happened is still something of a mystery, but HDP vowed not to help Erdogan transform the country's government into the presidential system he wants. The PKK lost by bringing the fight into urban areas, even though the HDP topped the 10-percent national threshold for parliamentary representation for the first time ever. Then things got out of control.

Kurds believe those behind the coup, known as the Fethullah Gülen Terror Organization (FETO), targeted the peace talks early on. They leaked voice recordings of the Oslo talks between Hakan Fidan – who was serving as Erdogan's special representative - and the PKK. Kurds believe the FETO establishment invited Fidan to testify about the leaked recordings, effectively ending the first round of the talks. The second round started to go badly when members of the Kurdistan Communities Union (KCK), an umbrella organization controlled by the PKK, were arrested.

Since the failed coup on July 15, thousands in state institutions from the military to the judiciary, from media to academia, have either been arrested or had their contracts suspended. The government blamed a long list of events on the Gülenists, including the downing of a Russian jet for briefly violating the Turkish air space.

The one thing Ankara did not blame on the Gülen "terror group," however, is the deadly devastation in Kurdish towns since the last general election. "For 90 days, we watched the Sur neighborhood get demolished by tank fire," said Murat Akincilar, head of the Diyarbakir Institute for Political and Social Research (DISA). "The irony is that it was Adem Huduti, the commander of the Second Army, who ordered the flattening of these neighborhoods. Today, he's getting arrested as a member of the Gülen terror group. He was called a hero for doing what he did in the Sur neighborhood or in Yuksekova up until just a week ago."


"Kurds had already been living poorly long before the attempted coup, which is why they didn't hit the streets to protest," Akincilar continued. "Many have grown indifferent to violence, unable to bear any more. When it turned out that Gülenists were behind the plot and that the violence was illegal, Kurds became convinced that Turkey will never be free of the coup threat until the Kurdish issue is resolved."

The government has imposed curfews six times on Diyarbakir's Sur neighborhood since September 2015, when about 50 young men affiliated with the PKK dug ditches and declared their autonomy. The last of the curfews began on Dec. 2, 2015 and lasted for 103 consecutive days — though some of these affected neighborhoods suffered much longer, and were finally freed on May 22, 2016.

"(My) shop was closed for over six months," said Ahmet Erdem, a shop owner in this neighborhood. "I take care of three families — including my two sons and their families. Thank goodness all of us are alive, but we are near dead economically. The PKK should not have brought this fighting here."

In the end, Akincilar says over 300 people have been killed in Sur alone — 84 of them children — and almost 2 million people in the surrounding area have been forced to leave their homes and are now facing winter with no place to live.

The Kurdish view of the events of July 15 from Diyarbakir is that they lost many lives and suffered scores of wounded months ago, only to have no one in Ankara admit that they too are victims of FETO.

Kurds feel let down by their fellow Turkish citizens. "The people in Ankara don't care about us; they want us all killed or to disappear," said Hidir, a street vendor. "You seem to care, but how much? Do the rest give a damn what happens to us? Does anyone really care what it means for us to live free as Kurds?"

Diyarbakir was mysteriously calm and uneventful during the two days I was there, but unlike my previous visit in June to observe what happened after the curfew for the Sur neighborhood was lifted; police and riot control vehicles were at every square and corner — almost every 10 feet. A heavy state presence was signified by Turkish flags all over town on these police vehicles.

"No one in Ankara sees things as we see them from here," Demirel said during an interview at the HDP's Diyarbakir office. "We lived it, and we paid the price. …The moment they accept there is a link between the arrested commanders and the events here, we will ask them to lift the curfews in places like Sirnak and elsewhere. We will ask the government to claim responsibility for what happened. But, of course, they won't do that."

Second Army Commander Adem Huduti, Diyarbakir Gendarmerie Regional Commander Samil Turkozkan and Diyarbakir Gendarmerie Commander Ceyhun Keles were arrested after the coup attempt, and charged with treason as members of the Gülen terror group. They have played key roles in executing militarist policies in Kurdish towns.

"We told the government numerous times before July 15 that if you strengthen militaristic forces, if you make them immune from any sort of accountability, it will come to bite you in the end," HDP deputy Demirel said. "They ignored our warning and now they pay the price. They published a new law in the Official Gazette on July 14 which giving commanders free reign to kill people without any fear of accountability. They went beyond the events of the 1990s. At least we knew then when these things happened it was against the law." The law provides legal protection to soldiers taking part in anti-terror operations and grants the Turkish army to launch military operations in urban areas.

Diyarbakir businessman Sah Ismail Bedirhanogullari, however, has been critical of HDP policies. "They all need to understand that Erdogan is here to stay," he said. "Whoever tried to bring him down has been unsuccessful. We the Kurds are not part of this, and there is no reason for the HDP to constantly go against him and bring his fire down upon us. The state has always tried to use scare tactics by lifting the immunity of the Kurdish deputies. But they are doing just enough to take the heat off the public's expectations."

Demirel said they demand that immunity should be lifted for all deputies — except their privileged status of openly expressing their views at public parliament meetings. "With these cases against our co-chairs, they are trying to punish a form of thinking, and that cannot be acceptable in a democracy," she said.

Bayram Bozyel, Deputy Chair of pro-Kurdish Rights and Freedoms Party (HAK-PAR), is also critical of HDP's policies. According to Bozyel, HDP ignored the rest of the Kurdish voices in the peace process and the government made a big mistake by putting Ocalan at the center of the negotiations. "You can talk with the PKK about the ending the fighting, but the Kurdish issue was there before the PKK was founded, and will be there until we decide to resolve it," he said. "This issue cannot be boiled down to one man or one party."

One way or the other though, everyone who discussed this issue said the government could send a big message to Kurds by ending the sp;itary confinement of Ocalan since April 2015 and allowing him to see his family and lawyers. "It will help a lot to ease the tension on the streets," Demirel said.

Many seem to have adopted a sort of forced optimism, reading every single statement as though they're tea leaves. Privately, a number of people expressed hope for a renewed peace process. "It will certainly happen sooner or later, and what the sides are doing now is trying to achieve the best bargaining position," said one Kurd who asked to remain anonymous. "They will find a way in the darkest moment and we will take it from there. I just hope that enough funerals have taken place already before we get there."

"Despite all the pain and suffering, I believe the Gülenist cleansing will help to tamp down future provocations in the next round of peace talks," said Akincilar of DISA. "The Gülenists needed government backing to kill as many Kurds as they could here, and then once all resistance is broken, they would find a way to win people's hearts. They did a similar negotiation with the Erdogan camp; they would introduce a kind of New Age religion to take control of the state and rule by this religious doctrine. If the Erdogan camp said 'no' to this kind of bargaining, whatever mistakes Erdogan has made until now are irrelevant — he is on the right path now."

Kurds seem to be unsure what to feel about Erdogan, as though their approach toward him could change even with one small conversation. The only thing they know for sure is that they don't want their hopes for peace to perish. "The best resolution to the Kurdish issue will be to settle the country under a federal system, and that is not the same as accepting Erdogan's presidential system," Bozyel said. "We all need to really sit down and talk together to find a common path to strengthen our unity and the well-being of our people."

Over 60 Kurdish intellectuals recently released a written statement saying they are willing to assume responsibility for ensuring peace talks resume. In the words of Akincilar, Kurds don't feel comfortable criticizing the PKK, in the same way that Turks feel limited in criticizing the army. But everyone who spoke about this issue to Yedioth Ahronoth openly resented the PKK bringing fighting to urban areas and the deaths of their loved ones. People are looking for a new way forward.