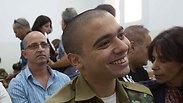 Azaria in court
Photo: Tal Shahar
The trial of Sgt. Elor Azaria continued on Thursday with the testimony of Deputy Company Commander Y., who was called by the defense team for the Kfir Brigade soldier accused of committing manslaughter when he shot dead the immobilized Palestinian attacker, Abdel-Fattah al-Sharif.

Y., who was not present at the scene of the incident, was asked about the company's feelings after the killing. He testified, "Fear is growing and growing all the time. I personally hear from people who say that 'if there's a terrorist and he's not a danger, I won't open fire because I don't want to get into trouble, soon I'm going to be discharged because I don't want mistakes.' It was the same in the company, and in the beginning there were soldiers who wanted to leave the company because they felt that they wouldn't receive backup in real time."

Y. also told the court, "We say to the soldiers that it's a serious incident. The brigade commander, the battalion commander and the company commander said that Elor is a liar. Most of the soldiers think otherwise. If you talk with soldiers about something that's 'forbidden,' it changes the mindset, and in my opinion it influences their testimony in the investigation.

The shooting incident

"In the beginning, I also though one thing and afterwards I thought something else. I'm still uncertain about certain things. What I do today is generally get the soldiers to remain in the company and to get through this crisis, even in regards to (the military) system. To keep them so that they won't leave their positions in combat service."

When questioned by the Military Police, Y. related a conversation that he had with Azaria on the day of the shooting, between Azaria's conversation with his lawyer and the brigade commander. Y. alleged that Azaria said that he had been afraid of a possible explosive.