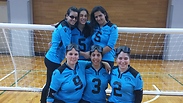 Paralympic goalball team
Photo: Keren Isaacson
While Israelis were celebrating Yarden Gerbi and Ori Sasson's Olympic medals in judo, members of the Paralympic delegation were working on a series of last-minute improvements before boarding their flight to Rio for the games, which will start on September 7. The delegation numbers 30 athletes, half of them women.

Over the years, Israelis athletes have won 380 medals in the Paralympics: 124 gold medals, 124 silver medals and 132 bronze medal. These medals join a lot of other titles won in different championships all over the world.

Despite all of this success, the Paralympic Games remain far from the spotlight, and the athletes themselves don't receive any major sponsorships.

"Israel has been a global pioneer in Paralympic sport, and in the past, most of the delegations relied heavily on wounded IDF veterans," says Ron Bolotin, Director of the Paralympic Committee. Ron himself is an amputee and disabled IDF veteran who also used to be a swimmer.

"Today, two thirds of the team are not disabled IDF veterans. The mid-90s saw a global change, and now many countries have entered the field with a heavy emphasis on results. In Britain for example, there is total equality between regular Olympic athletes and Paralympic athletes. London was a great success and we ended up with eight medals. Rio will be more difficult due to a rise in global competition. Sorry, but it is not going to be a medal display like in the 80s."
So what do we do?
"Just like with regular athletes, we must work with children and youth. We are trying to reach them, but there is a problem with medical confidentiality and convincing parents. Only after years of hard work with children can they reach high levels and that is exactly what is happening now with the women's goalball team, which we have been directing for years. We are aware of the high expectations. If we do not invest resources, we will lose what we have gained."
"Everybody knows Yarden Gerbi; it's about time that everyone knows me and the rest of the delegation," says Elham Mehameed, a player on the national goalball team.
"There shouldn't be favoritism between us and the Olympic athletes. It is very frustrating when you work hard, travel hours for practice, accomplish great things and bring honor to the country only to be ignored. There are some parts of society that think handicapped sports aren't important and that we should say 'thank you' for broadcasting us, if at all, at the end of the day or something. They make us feel even stranger."
Before they board a plane to Rio, we interviewed nine athletes during a break from their training intervals. We heard from them where they get the energy to overcome their physical limitations and of course, their medal dreams.
Reuven Magnagi
Personal details: Married with five kids.
Lives in Givat Shmuel.
Event: Couples rowing with Yulia Chernoi .
Accomplishments: Silver medal at the world championships in London in 2013.
My body: "In 2002, in Operation Defensive Shield, I was a reserve soldier in the Nachshon Battalion when we were sent to Jenin after a large terror attack at the Park Hotel in Netanya. During a battle in the Jenin refugee camp, 13 guys from my company were killed. I got hit in the leg with a burst of gunfire. You just start shaking, seriously shaking. Suddenly you just have an image problem with your body. It took me two and a half years to understand what happened to me and the trauma is still fresh. It is a lifelong process."
The strength to overcome: "After I was wounded, I had this feeling that my life was slipping out of my control. After awhile, I understood that I'm a competitive guy and I can use that to offset my handicap. I chose to change the loss to a gain. When you understood you're good at something, it fulfills you. You feel like you get control of your life back."
Rio: "This is already my third Olympics and like every competition, I'm going to try my hardest. It's exhausting, but there is something about sport and I devote myself to it."
Moshe and Hagar Zahavi
Personal details: Married with four kids.
Live in Kokhav Yair.
Event: Sailing (Skud 18).
Accomplishments: Moshe—former world badminton world champion. Hagar—Sixth place at the London Olympics.
My body:
Moshe—"when I was seven months old, I became ill with polio and became paralyzed in the lower extremities."
Hagar—"at 20 I was injured in a car accident. We had come back from a night out, when the back wheel exploded and we lost control of the car, crashing into a tree. I seriously injured my spinal cord."
The strength to overcome:
Hagar—"It's a matter of your personality and your environment. I didn't allow myself to sink. In time, you let yourself live with it. Let me be clear though, it's not all roses. You go through a lot of hard things and everything you do is much slower. But I have Moshe with me. He doesn't let me sink. Even if I fall apart, he'll put me back together. I found my support, shoulder to rest on and ear to listen."
Moshe—"I live with it, I don't know how not to. I go with the flow. In sport, you don't have a limit. If you can't stand, don't compete in an event that requires you to stand. Sports has brought me to heights. We're six boys in my family, but no one has experienced life like me. Everything is due to sports, determination and the will not to quit."
Rio: "We want to prove ourselves and win. Our children are as proud as peacocks. Maybe other children would be embarrassed of two handicapped children, but our children happily tell other children in their class about the Paralympics."
Adam Berdichevsky
Personal details: Married with two kids.
Lives in Kibbutz Nir-Yitzhak.
Event: Tennis.
Accomplishments: Qualifying for Rio games. Sixth place with team Israel at the Nations Cup in Tokyo in 2016.
My body: "I was doing a yearlong trek in Australia and New Zealand in 2007 with my wife Hila. At the end of the trip we flew to Thailand. Four days before the return flight to Israel, we were on a ship when a storm happened. The ship began to sink and I was being pulled into the motor. I tried to save Hila, but in the end, I couldn't save myself. After the injury, I was on the verge of giving up, but things have only improved. One of my legs was saved and I can walk with prosthesis."
The strength to overcome: "I really love sports. I always dreamt about playing professional sports. When I realized that I was going to survive, I took every opportunity. Life is short. I didn't think about the negative things, but rather the new opportunities available to me. I recommend to anyone who has an injury to dive into a new world instead of falling into self pity. The new opportunity that sports provide can save people."
Rio: "I feel that anything is possible. I hope I can play as well as possible and surprise some people. I'm not a candidate for a medal, but I hope at the next Olympics I'll get to that level."
Roni Ohayon
Personal details: 17 and a half years old, the youngest athlete on the team.
Lives in Be'er Sheva.
Event: Goalball.
Accomplishments: Gold medal winner at the 2015 world blind games in Seoul.
My body: "I was born with impaired vision."
The strength to overcome: "I have been an athlete from a young age. I owe so much to my dad, he never babied me. He let me run. If I would fall and get a bruise on my forehead, he would tell me it was ok and it would pass. They trust me even though I can't see. It was only later that I realized how much it helped my self-confidence. You understand that you have strength."
Rio: "In Seoul, when we made it to the finals, it was such a crazy high we forgot to shake hands with our opponents. I apologize to the Canadians! Rio will be my first Olympics and I have high expectations."
Elham Mehameed
Personal details: 26 years old, single and originally from Umm al-Faham.
Lives in Jerusalem.
Event: Goalball.
Accomplishments: Qualifying for Rio games. Sixth place with team Israel at the Nations Cup in Tokyo in 2016.
My body: "At four months, I was diagnosed with retinal damage. I am colorblind and visually impaired. A person with normal vision can see 60 meters, while I can only see about a meter and a half. In order to create equality during training, everyone wears eye coverings. The ball has a bell inside and that is how we recognize it."
The strength to overcome: "It all stems from a desire to fit in, to belong and to prove myself. When you succeed, it gives you a lot of strength. You all of a sudden feel like you have no limitations."
Rio: "At the world championships in Seoul, we knew the only way we could get to Rio was to beat the Canadians. I cried the entire game. After, when we made it to the finals against China, we won by intensity. I have high expectations and I hope we live up to them."
Dror Cohen
Personal details: 48 years old, divorced, and father of two.
Lives in Neve Yarok.
Event: Sailing (sonar boat team member).
Accomplishments: Gold medal at Athens in 2004.
My body: "I served in the air force as a fighter pilot. One day, on the way back to base, I flipped my car. It was a stupid accident. Since then, I've been paralyzed in my lower body."
The strength to overcome: "It comes from the way I was raised. I was injured when I was 24 so I had lived a few years before. I always wanted to be the best. When I want something, I do it without making any excuses. In rehabilitation, when I realized that my upper body still functioned properly, I decided that I wouldn't give up. When you're focused and full of will power, it is impossible to stop you."
Rio: "I want to be the best in the world at what I do. When I go to Rio, I'm going to take the love and warmth of my two daughters."
Pascal Berkowitz
Personal details: 49 years old and married with two kids.
Lives in Tel Aviv.
Event: Kayaking
Accomplishments: Participated in three different events in three different Olympics; rowing in Beijing, hand cycling in London and Kayaking in Rio.
My body: "When I was 17 and in France, I slipped on some ice and snow and fell onto some train tracks, where a passing train ran over my legs. It took a few hours for help to arrive. Moments like these build you differently. For me, it was like a second birth. Six months after my injury, I made Aliyah."
The strength to overcome: "I know that for some people, the injury can look like the end of the world. There are a lot of things I cannot do, but I do my best. The decision to take the accident and turn it into internal motivation gives me strength. The sky is not the limit. There is no limit."
Rio: "In London, I did everything on the same gear. It was really disappointing and was like running with an iron ball tied to your leg. I promised myself I would improve. Now Rio is waiting for me. I want to celebrate. I want a medal."