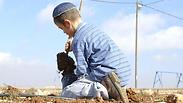 Syracuse University professor bows to BDS
After inviting Israeli filmmaker Shimon Dotan to screen his film at a conference on religion and cinema, Professor R. Gail Hamner caved in to BDS threats and rescinded Dotan's invitation; 'She didn't even ask to see the film. All she was concerned about is BDS activists not being happy with the screening of an Israeli film at Syracuse.'
Syracuse University in New York normally welcomes Israeli filmmakers. Haim Bouzaglo was invited to a master's class to discuss his movie "Session," starring Bar Rafaeli and Liran Levo. Similarly, Dani Menkin, creator of "Is This You?," starring Alon Abutbul was also invited. However, protests from BDS activists on campus led to the cancellation of the screening of "Settlers," a documentary film by Israeli director Shimon Dotan.

According to The Atlantic, Dotan, who teaches communications at New York University, was scheduled to present his film at a conference on religion and cinema, which was supposed to be held next March in Syracuse.

However, organizers received complaints from student and faculty BDS activists, and were forced to cancel the screening of the film as well as the invitation of the director. "I am now embarrassed to share that my SU colleagues, on hearing about my attempt to secure your presentation, have warned me that the BDS faction on campus will make matters very unpleasant for you and for me if you come," wrote Professor M. Gail Hamner, who explained that because she had not seen the movie herself, she was unable to vouch for it. "I feel trapped in an ideological matrix," she confessed, adding, "Clearly I am politically naïve. I feel tremendous shame in reneging on a half-offered invitation."

According to Dotan, Professor Hamner's decision is cowardly. "She didn't even ask to see the film. All she was concerned about is BDS activists not being happy with the screening of an Israeli film at Syracuse," wrote Dotan to an academic mediating between the parties. "It's very disturbing. And that happens at a university, at a temple of freedom of speech, or so we would like to believe."

Dotan, 66, presented "Settlers" at the premiere of the Sundance film festival earlier this year, and next month it will be screened at the prestigious New York festival.

In addition to screening the film abroad and in Israeli theatres, Dotan has also received a lot of criticism from some of the people filmed in the movie who claimed that he tendentiously presented their testimonies and concealed his political views from them.