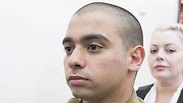 Elor Azaria
Photo: Tal Shahar
Jerusalem police detained two people for questioning after they protested Thursday night at the Kfir Brigade's swearing-in ceremony at the Western Wall. Protestors standing on a nearby balcony shouted for the release of Elor Azaria and were charged with disturbing the peace.

Through a megaphone, one of the protestors shouted, "Do you trust the Kfir commanders to return your children? Do you trust the Kfir commanders not to abandon your children?"

Itamar Ben-Gvir, who is representing the two defendants, said that the police's actions are not legal. "It is unfortunate that the police practice a policy of silencing freedom of expression, which includes calling for the release of an Israeli soldier that fell victim to a failed Minister of Defense."

Protestors at ceremony (מטה המאבק למען אלאור)

The headquarters for the campaign working for the release of Elor Azaria responded by saying, "Two key activists were detained and questioned for four hours. The activists made it clear that their actions were not in violation of the law and furthermore, that their actions embody those of model citizens. The protest at the Western Wall is us intensifying our activities. A protest at the court in Jaffa is also planned."

At the trial Thursday, the deputy company commander was called to testify by the defense. At the military court in Jaffa, the commander was asked about the mood of the company following Azaria shooting the neutralized attacker. In his statement, Y. said, "I personally hear concern being raised all the time. I hear people saying 'if I see a suspected terrorist, I don't want to shoot because I don't want to get involved, I don't want the trouble.' A lot of people wanted to leave the platoon because they felt like they wouldn't get our support in the moment of truth."

The IDF Judge Advocate General, Brig. Gen. Sharon Afek, referenced the trial without referring to it by name, saying, "You must stand trial even in the middle of a storm."