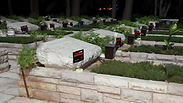 A bereaved father committed suicide on Friday by shooting himself at his son's grave in the military cemetery section of Mount Herzl.

His son fell in the 1990s in Lebanon, and since his death, the father had devoted himself to commemorating him. Over the past two years, the father had also been struggling with cancer.

One of the father's friend recounted that the fallen son was an only child. The friend added that in recent months, whenever the father didn't feel well, he would spend the night sleeping on his son's grave, stating the next day that he felt considerably better and preferred that treatment to conventional medicine.

Another friend, Shmuel Maniv, explained, "The son was his entire world, and after he fell, he was in perpetual mourning. The father moved to small community and established there a park in the son's name. He planned to turn the place into an educational site for schools where they'd learn about Israeli history. He talked only about that. But he didn't succeed in it, even though it was his dream. Over the past two years, he was sick with terminal cancer; his condition was worsening, and he would sleep on the son's grave sometimes."

Maniv said that the fallen son, who served in Golani, had pressured his parents to sign the waiver required for parents of only sons to permit his enlisting in combat service. "During his service, he fell during an incident of two-sided fire," Maniv said.

The father's best friend said that a mere three weeks ago, they had talked: He was still talking about the commemoration site; I didn't think that this is what would happened."