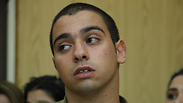 Sgt. Elor Azaria
Photo: Shaul Golan
More than we bargained for
Op-ed: The Prosecution in Sgt. Elor Azaria's trial is led by an impressive Military Advocate General and a sharp head lawyer, but as the trial continues to devolve into a convoluted side-show, it seems clearer and clearer that someone on that team should have pushed for a satisfactory plea bargain early on.
Though it's unclear how Sgt. Elor Azaria's trial will end, the IDF is currently suffering such a monumental loss and the damage being done to it is so colossal that you cannot help but wonder where was IDF Chief Military Advocate General Brig. Gen. Sharon Afek when the judges suggested a mediation agreement. For while the Defense was willing to accept it, the Prosecution was not.

Afek is very well-regarded within the legal community. He is considered pragmatic, professional and someone who is not utterly linked to one side of the political map. In the past, he has made very difficult decisions, like in the case of the rape charges against Brig. Gen. Ofek Buchris, or in deciding to close the controversial cases against Col. Yisrael Shomer, who shot a stone-thrower running away from him in the back, and Lt. Col. Neriya Yeshurun, who allegedly gave the command to open fire on a medical clinic during Operation Protective Edge. These decisions were greeted with understanding and helped build his professional authority.

His speech this week before the court was also important, but regarding Azaria's case, Afek has made his first misstep, in not insisting that the Prosecution at least appear to attempt reaching a plea bargain that would have saved the IDF from the horrible position it now finds itself in.

The legal proceedings taking place in Jaffa are important, but the damage that is being done is so much more dramatic. Fighters are seeing a previously unimaginable sight: their direct commander is now facing their company commander, brigade commander and battalion commander who have all turned against him, while the platoon commander arrives to speak in defense of their commander and against the company and brigade commanders http://www.ynetnews.com/articles/0,7340,L-4843977,00.html , as severe accusations are dished out.

And so, we are left with a commander (Azaria), a platoon commander and a deputy company commander who disagree with the company commander, brigade commander and battalion commander, while soldiers and officers give conflicting testimonies in Military Police investigations and in court. Regardless of the final verdict, each side will continue to stick to their own truth. The regular soldier understands one thing from all this: that the IDF has turned against a soldier who took out a terrorist. This is where the story begins and this is where it ends—in a breach of trust that may be incomparable to any other ever experienced between the IDF and the Israeli public, or within the IDF itself.

Anyone who understands this also understands how this situation could have been avoided: the Military Advocate General has put an exceptional lawyer on the case—reserve Lt. Col. Nadav Weisman, whose cross-examinations continue to surpass one another. It's really no contest, then, when he is faced with the young soldiers and officers of the Kfir Brigade. Weisman has managed to convince Afek that this is a zero-sum game, that the case is one of the most important military cases to date, and that if nobody would get prosecuted each time one officer's testimony would contradict another's, there would be no more criminal justice in the military courts.

And yet, Afek still should have ordered to try and reach a plea, instead of an ostentatious trial, as this would have been in the army's best interest. Since this wasn't what happened, though, at this point, even if the Prosecution ends up winning, it would still be the army's loss.