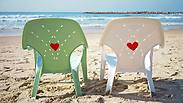 Tel-Avivi
Photo: Ido Biran
Tel-Avivi, a city portrait
In pictures: In honor of summer's end, Ido Biran presents an urban portrait of Tel Aviv and its beaches two years in the making. Photographing Tel Aviv and its dynamic landscapes and people from various positions, Biran presents a unique view of Tel Aviv summer life; 'Tel Aviv without a beach is an entirely different city.'
During the project "Tel Avivi," an city portrait I've been working on for the past two years, the place I found myself in the most was the beach. It has energy, it symbolizes freedom, it undergoes changes throughout the seasons and it attracts all manner of characters. There is no doubt it's one of the most popular things to do in the city, and it helps make the city what it is. Tel-Aviv without a beach is an entirely different city.
Tel-Avivi (צילום: עידו בירן)
Sunset in Tel-Aviv (צילום: עידו בירן)
On the 16th and 17th of September, as part of the "Loving Art Making Art 2016" festival, meet photographer Ido Biran in his studio, and hear about his creative process and future vision.
Ido Biran's works are on Facebook and Instagram. Pictures and other products of the project are available on the project site.