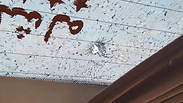 The damaged cab windshield.
Photo: Israel Police
The police and Shin Bet have arrested Moshe Yinon Oren, an 18-year-old right-wing activist from the West Bank Jewish settlement outpost Givat Ronen Aroussi, for allegedly firing a gun at a moving vehicle.

Oren is accused of firing an air gun at a Palestinian cab, following an incident in which Oren was forced to move to the side of the road by said cab. The air-gunfire pierced the taxi's back window, but no injuries were caused by the incident. The official indictment Oren is facing does not mention any nationalistic motives for his actions.

Searching his home, authorities found the air pistol that was allegedly used in the incident, air gun ammo, several propane tanks, an empty 5.56 ammunition clip (the kind of ammunition used in the standard-issue IDF M-16 assault rifle), a slingshot, and a metal box with tire-piercing spikes. Oren confessed to the charges during questioning.


According to the indictment presented to the court on Sunday, the incident took place on August 24. Moshe Yinon Oren was allegedly driving an ATV , with the Palestinian taxi cab driving the opposite way. At a certain point, the cab diverged from its path, forcing Oren to turn away, onto the side of the road. The indictment claims that Oren then made a U-turn, chased the cab—in which five Palestinian laborers were riding—pulled out his air gun, fired, and broke the rear window.

Prosecutors came to the conclusion that the motive for the incident could not be discerned to have been necessarily related to nationalistic sentiment, and so Oren was indicted merely for the crime of firing at a vehicle.

Oren's attorney, Itay Rozin, responded by saying, "This is a young guy ahead of his IDF enlistment, who felt (he was in) danger as a result of the wild driving by the plaintiffs and used an air gun, which is a toy gun. This is not a 'price tag' action," later adding, "It's inconceivable that my client's place of residence would lead to the decision to have the case investigated by the Shin Bet, and (the decision) to bar him from seeing an attorney, while severely and continuously doing harm to his basic rights."