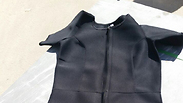 Scuba equipment intended for Hamas (Archive photo)
Photo: Checkpoints Authority
The southern district's district attorney for criminal matters filed an indictment on Sunday with the Be'er Sheva District Court against a Gazan merchant who smuggled diving equipment into the Strip without a permit and sold it to Hamas's military wing. In addition, he has been accused large quantities of sports equipment and clothes.

The defendant, 40-year-old Abed Skalla, is also charged with, inter alia, four counts of committing security offenses by contacting a foreign agent, providing services to an unauthorized association, and aggravated fraud.

Skalla is alleged to possess sporting goods stores and a sewing workshop in the Gaza Strip. According to the indictment, from 2008 to 2012, he smuggled scuba-diving equipment that he had purchased from an Italian company from Egypt to Gaza via tunnels. In 2009, he allegedly sold to a member of the Hamas naval police 200 diving fins and 15 diving masks and more similar equipment in 2012.

He is further charged with having sold about 75 sets of sports clothing to the person responsible for Hamas's Nukhba Unit—an elite section of their military wing—for their operatives. At Skalla's brother's request, the items were allegedly sold at a substantial discount. He is also charged with selling hundreds of sets of sports clothing in recent years to Hamas militants.

The indictment further specifies the contacts between the defendant and Hamas militants. In 2008, Skalla allegegedly sold to a senior commander a facility intended for weight-training for his cell.

In 2014, a shipment arrived for the defendant at the port of Ashdod. It was stopped on entry to the Gaza Strip, as it contained diving masks that are forbidden for import into Gaza. They were returned to the truck driver, who alerted Skalla that four pallets had not been imported. However, the defendant allegedly managed to get about 60 of the forbidden masks into the Strip.

In May of 2015, Skalla is alleged to have sold $30,000 worth of sports equipment to Hamas's militant wing for $27,000.