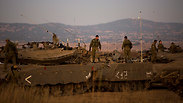 IDF soldiers in Golan Heights (Archive photo)
Photo: EPA
Following the "spillover firing" of a mortar from Syrian that landed in the Golan Heights, the IDF attacked on Sunday night Syrian army artillery. The shell fired into Israel was part of intra-national Syrian fighting, and it landed in an open area, not causing any injuries or damage.

The IDF responded by attacking artillery belonging to Syrian regime in the northern Syrian Golan Heights. The IDF stated that it saw the Syrian regime as responsible for the goings-on in its territory and would not tolerate any attempt to harm the State of Israel's sovereignty or the security of its citizens. No special instructions were given to the civilian population, and the normal routine of inhabitants in the Golan Heights has not been affected.

A senior military official told the official Syrian news agency, "The Israeli enemy is continuing to support terrorist organizations, and it attacked in the area of the village of Khdeir with two missiles fired from an unmanned Israel aircraft. As a result, damage was caused." That source did not report any injuries as a result.

Syrian media identified with the regime reported that unverified sources were claiming that the IDF had attacked two targets aerially. The first was in the northwest village of Harfa and the second was in the Tel al-Shaer region.

At the same time, the Al-Mayadeen network, which is affiliated with Hezbollah, reported that the IDF carried out four attacks on Syrian military targets in the area of Quneitra.

A Syrian army official stated to the Russian news agency Sputnik that an unmanned Israeli aircraft carried out the attack with three missiles. That report did not mention injury or damage.

During the five years of warfare in Syria, a few shells have exploded in the Israeli Golan Heights as part of fire exchange between the warring parties. The IDF usually returns fire towards the shells' place of provenance.