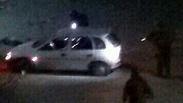 Terrorist killed in Jerusalem attempted vehicular attack
A Palestinian attempted to run over Border Police forces in the Shuafat refugee camp in Jerusalem, in an attempted vehicular terrorist attack Sunday night; The terrorist, identified as Mustafa Nimr, was killed in the attack, while the other passenger was arrested.
A Palestinian vehicle leaving the Shuafat refugee camp in east Jerusalem attempted to run over Police and Border Police forces Sunday night in an attempted terrorist attack. There were no injuries to Israeli forces.

Police said the vehicle approached them at high speed, trying to hit them. Forces began the accepted procedure to stop a suspicious vehicle, but the driver refused to slow down. As a result, forces opened fire, killing the terrorist and wounding the passenger, who was evacuated in moderate condition.

MDA teams arrived at the area to evacuate the wounded terrorist, 25, to Hadassah Medical Center. The terrorist who killed was identified as Mustafa Nimr, who was also in his 20s.

A month ago, Border Police forces fired at a Palestinian vehicle driving at high speed toward a checkpoint in Al-Ram near Jerusalem. One of the passengers was killed, while another was moderately wounded and later evacuated for medical treatment. A third occupant was arrested and transferred to security forces for questioning.

The incident occurred during an operation by security forces to seek out and confiscate illicit weapons in the Judea and Samaria region.