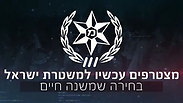 Israel police
Photo: Israel Police
After having received intelligence on its operation, officers from the northern district of the Israel Police raided on Sunday a brothel operating in a residential area. At the station, it was discovered that one of the detained sex workers is herself a police officer.

The woman in question is performing her mandatory military service with the Israel Police.

The investigative squad arrived at the apartment on Sunday afternoon and found there four women allegedly providing sexual services for financial compensation. They were detained for questioning by the police, as is customary in these circumstances.

After consulting with those in the command structure, it was decided that the police should not investigate the detained officer. The matter was transferred to the Internal Affairs Division, and the officer in question is expected to be questioned on Monday or Tuesday.

Sex work is legal in the State of Israel, though running brothels generally is not.