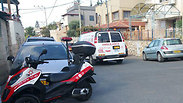 MDA teams at the scene
Photo: MDA
Mayor of Julis shoots contractor in argument
Salman Amar, mayor of Julis, shot and killed Munir Labouani, a contractor and Julis resident after an argument broke out between the two. According to witness reports of the incident, Labouani attempted to attack Amar with a blunt object before being shot to death by Amar.
The mayor of Julis, Salman Amar, is suspected of the shooting death of Munir Labouani, a 45 year-old contractor, in the front of the council building. MDA teams arrived to provide emergency medical treatment on the scene, but were forced to pronounce the victim dead after resuscitation efforts proved to be unsuccessful.

Witnesses said Labouani was armed with a blunt object and tried to attack the mayor. According to further witness reports, the shooting was the result of a running dispute between the two men. Amar, who has a firearm license, fled the scene, but later turned himself in to police.

An initial investigation has revealed that the shooting occurred after an argument in the council building between residents and officials.

According to reports, Labouani attacked the mayor and one of the officials present, after which Amar pulled out his gun and shot him.

Taeed Quas, an emergency medical technician with MDA who treated the victim said, "A unconscious man was lying near the city council building suffering from a gunshot wound and bleeding in his upper body. We gave him medical treatment, which included stopping the bleeding and resuscitation, but the wound was too severe, and we were forced to pronounce him dead shortly after."

Shortly after the incident, dozens of people arrived at the scene and strongly condemned the act. One of the officials commented, "We don't know exactly why the shooting took place. This is something that has never happened before. We'll know all the details soon enough."