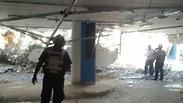 Before the dust has even fully settled following the collapse of a four-level subterranean parking lot in a building site on HaBarzel Street in the Ramat Hahayal neighborhood of Tel Aviv Monday morning, questions have begun to surface about whether it was avoidable.

According to the manager of the construction site, the collapse—which left at least two people dead, at least five missing and 23 injured— workers had already raised concerns about the safety of the site.

Footage of the collapse (צילום: חברת "בזמן אמת")

"In the morning when we were at the site and began working there was a machine which cleaning the floor and every time it passed us we felt the ground shaking a little. It didn't seem right," said Mika Levine, manager of the construction site. "I also told the manager of the projects that it didn't feel healthy the way it was shaking. Not even an hour past before the whole building collapsed in the center."

The search for several missing individuals is still ongoing at the scene and the police have already begun investigating workers from the company and are expected to conduct further investigations in the coming hours. A gag order has been issued on the details of the investigation.

Mohammed, one of the workers at the site also said: "I said it would collapse. I have worked in this field for 20 years already. The tractors were working and there was shaking. I told the people who understand construction," Mohammed claimed. "I am just a small cog in the machine and there are many consultants. We were supposed to have a project meeting at 10am this morning but it was rescheduled to 2pm and what happened happened."

Another worker who was injured in the collapse added, "I am angry, There are people who have been killed, friends of all of us with whom we worked together. There are people missing. I wasn't scared to come to work but I thought that this was something that could happen."

One worker who arrived late to work and was therefore not present during the incident, attested to the fact that the safety precautions at the site were insufficient. While the foundational poles were assembled appropriately, he said that they were not connected properly to the concrete plates. He further claimed that he was simply laughed at when he recently voiced his concerns. "Are you scared?," he said his superiors sarcastically retorted.