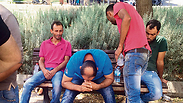 One brother killed and two injured in Tel Aviv building collapse
Tragedy strikes the Rimawi family, as the body of Iyad Rimawi, one of the brothers trapped in the rubble following the parking garage collapse, was discovered by rescue forces Tuesday; 'We prayed for a miracle, but now are going home without my brother.'
The Tel Aviv parking garage tragedy is being felt in the Palestinian village of Beit Rima outside Ramallah, as the body of 34 year-old Iyad Rimawi, a worker at the site, was pulled from the rubble on Tuesday morning. Iyad was not the only family member involved in the tragedy, as his two brothers, Mohammad and Bassam, were with him as well. However, they only suffered minor injuries, while Iyad lost his life.

Nihad, Iyad's brother in law, recounted the moment the collapse happened. "Once the collapse occured, Mohammad, the oldest brother, managed to make it to the staircase closest to him and escape. Bassam was injured in the collapse, but was not buried under the rubble. They both began to call for Iyad, but they got no response. He was buried inside." The brothers later had to identify Iyad's body after rescue services found it.

Nihad further described how everyone working at the site in the days before the collapse felt that the building was shaking. "Every time a piece of heavy machinery would move or be operating on the roof, the entire building would vibrate. We all felt it."

Despite hopes and prayers for a miracle, Iyad's two brothers and his brother-in-law burst into tears upon seeing his body removed from the rubble. "We prayed for a miracle, but now are going home without my brother," said Musa, another one of Iyad's brothers.

Iyad was married with a child and his wife is pregnant with their second. He had been working in Israel in construction for a year and a half. His body was taken to the Abu Kabir Forensic Institute for and autopsy, and the funeral is expected to take place in Beit Rima on Wednesday.

Police said that as of Tuesday night, there are two other deaths in addition to Iyad, one a worker and another a foreign national. Three people are still listed as missing.