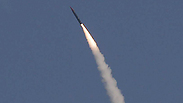 David's Sling test fire
Photo: Reuters
Israeli missiles to be included in US air defense deal to Poland
American defense company and Polish government close to finalizing deal worth an estimated $5 billion in which Raytheon will supply Poland patriot missile batteries equipped with a version of the David's Sling missile interceptor, whose development was led by Israel's Rafael Advanced Defense Systems.
Progress has been made in one of the biggest deals that Israel's defense industries have ever been part of. Raytheon, the US company which produces the Patriot missile system, has offered Poland a version of the David's Sling missile interceptor system, whose development was led by Israeli company Rafael. The deal is worth an estimated $5 billion.

David's Sling has already been adopted by the Ministry of Defense to intercept long range rockets, however, its air defense capabilities also include intercepting aircraft (manned and unmanned) as well as cruise missiles and ballistic missiles.

The Ministry of Defense and Rafael announced at the beginning of the year that the air force acquired the first David's Sling system, which would add another layer of protection to Israel in addition to the Iron Dome and the Arrow anti-ballistic missile defense system.

On Tuesday, in front of reporters in Kielce, Poland, Raytheon unveiled the SkyCeptor missile, which is expected to be integrated into the Patriot batteries Poland is set to acquire. A company official said the missile is currently being produced in Israel and has successfully passed a series of interception tests.

Polish Defense Minister Antoni Macierewicz, said that significant progress has been made in discussions between Raytheon and his country regarding the missile deal.

Behind the scenes, Raytheon consents to at least 50% of the deal's value being recycled into Polish defense industries. It is not yet clear what Rafael's share of the transaction is.

David's Sling tests

Components of the David's Sling system are also produced by Raytheon in the United States as part of conditions the US government set on the special assistance deal Israel received to develop the system.

The Israeli-made missile operates in two phases and reaches a speed several times faster than sound in order to intercept rockets and ballistic missiles with a range of up to 300 km. The maneuverability of the missile allows it to deal with fast moving targets as well as cruise missiles, which are difficult to detect and intercept.

Israel uses the system in conjunction with an Elbit-made control system and radar developed by Elta, a subsidiary of Israel Aerospace Industries. However, the American export version uses a control system and radar developed by Raytheon.

The acquisition of the new air defense system is one of the key components of the program to modernize the Polish army, which began shortly after the Russian occupation of the Crimea.