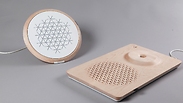 Sharona Merlin's Louder
Photo: Tammy Dahan
Israelis to present utopian design in London
Graduates of Shenkar College will feature their projects at the three-week event at Somerset House, including a system to drop supplies over disaster zones when road access is blocked, and speakers for the deaf and hard of hearing that translates sounds into visual textures and floor vibrations.
The first London Design Biennale began on Wednesday, with representatives from 30 different countries across 6 continents presenting their designs—including, of course, designers from Israel.

The designers participating in the biennale come from the top design schools in the world, including the Cooper Hewitt Smithsonian Design Museum in Manhattan and the Victoria and Albert Museum in London.

Israel will be represented by the Design Faculty at Shenkar College, which will present projects from the Industrial Design Department, curated by Tami Warshavski, the head of Shenkar's Center for Innovation.

The biennale will explore the theme "Utopia by Design"—enacting change through smart, innovative and creative design.

The projects presented at the biennale will seek to offer design solutions to complex problems the world is dealing with—immigration, environmental protection, stability, and social equality.

The first project from Israel is AIDrop by designer Yaniv Kadosh—a first-aid distribution system that employs self-rotating units to drop 3kg cartons of supplies over disaster zones, serving wide and potentially remote places until further essentials can be delivered by road.

The second project is Sharona Merlin's Louder—a pair of speakers for the deaf and hard of hearing that translates sounds into visual textures and floor vibrations that can be felt through the feet.

The biennale will last for three weeks and take place at Somerset House, one of the more iconic structures in the British capital, overlooking the Thames.

Each day will also feature talks open for the public with designers from all over the world. The designers from Israel will participate in a talk on September 13.

Other interesting designs worth sampling during the visit to the biennale are those from Russia—which is going to present designs from the Lost Archives of Soviet Design, and France—which is going to present a film documenting the attempts to preserve, stir up and share immaterial memories of Syria's living heritage.