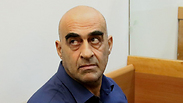 Julis Regional Council Head Salman Amar
Photo: Avi Mualem
Julis regional head filmed shooting, killing his attacker
Disturbing video: Julis Regional Council Head Salman Amar, who was arrested on Monday on suspicion of murder, was recorded shooting to death Munir Labouani, who is seen attacking him with an iron bar; Amar and Labouani were reportedly friendly, and the dispute apparently stemmed from a financial disagreement.
Video footage has been released showing Julis Regional Council Head Salman Amar on Monday shooting and killing Munir Labouani after he appears to be seen attacking Amar's car with an iron bar. In the video, Amar can be seen shooting Labouani several times as he falls to the ground.

Amar was arrested on suspicion of murder after leaving the scene of the incident and turning himself in. Amar's attorney stressed that his client did not flee the scene, but left due to fear of retaliation from Labouani's family. The judge did not wholly accept this claim however, saying that there is already sufficient evidence to link Amar to the murder charges against him.

Footage of the incident

The presiding judge also stated that the current evidence reasonably discredits the claim that Amar acted in self defense. "In order to constitute self defense, several parameters must exist." said the judge. "These are mortal danger, (no) escape route and the immediacy of the event. We can already conclude that some of these did not occur."

Despite the judge's position, footage from the incident shows Amar defending himself from a violent Labouani, who repeatedly struck Amar's car prior to being shot. It should also be stated that Amar has a license for the gun he used.

Labouani is reported to be a 45-year-old contractor, who was seen arguing with Amar at Amar's office two weeks prior to the event. The argument was broken up by members of Amar's staff, who had also mediated a "sulha" (the Arabic word for reconciliation) between the two. Witnesses claimed that "The council head and Labouani were friends and were always seen together. They were apparently fighting over money."

Osama Labouani, a relative of the deceased, came out against Amar. "A person like that shouldn't be in office," he said. "We're all in shock and are trying to understand what led to the shooting."

A second relative of Labouani rejected the claim that Amar acted out of self defense. "I don't believe it. This was murder. He could have shot him in the foot, but instead he shot him several times until he died." He expressed hope that Amar will be punished for his actions.