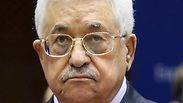 Palestinian Authority Chairman Mahmoud Abbas was an agent for the former Russian Secret Intelligence Service (KGB) in 1983 in Syria, according to a report by Channel 1, published Wednesday evening.

The report claims that information was taken from documents smuggled to the West by Vasili Mitrokhin who was a major and senior archivist for the KGB. Mitrokhin eventually became a defector against the Soviet regime and fled to the West in possession of many documents which he smuggled from Russia to London.

The Mitrokhin Archive was opened to public researchers just a few months ago. The relevant document reached researchers Dr. Isabella Ginor and Gideon Remez at the Truman Institute who previously worked for Israel's Voice of Israel (Kol Yisrael).

Contained in the documents is, among other things, a list list of sources from 1983, aids and Palestinian agents of the KGB in Damascus. Listed among them is Mahmoud Abbas, born in 1935, under the codename of 'Kortov'—mole—and marked as a KGB agent in Syria.

Mitrokhin's documents reveal the identities of more than one thousand spies and collaborators who worked for the KGB. Indeed, investigators have emphasized that Mahmoud Abbas is listed not as a collaborator or someone who could be turned into a spy, but categorically as a KGB agent.

"The full archive of Mitrokhin was opened to researchers only last year and we ordered the entire file on the Middle East numbered 24. It was sent to us from Cambridge University and we read it point by point," Remez said. "The source is extremely reliable when not all the details are known."

According to the list, Abbas was an agent in 1983 but it is not yet known whether he also was before or after that year. A preliminary conclusion that has been drawn is that he was recruited to the KGB when he was a student in Moscow when he wrote a doctoral dissertation in which he grossly played down the crimes of the Holocaust.