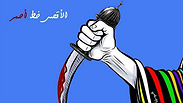 Facebook post calling for violence
Rise of social media linked to rise of anti-Semitism
With anti-Semitism on the rise in much of the world, the internet and social media are doing more to contribute to the phenomenon as opposed to stopping it, according to Danny Danon; 'We are living in a new era and we face a new kind of anti-Semitism.'
Israel's UN ambassador demanded Wednesday that media companies "stop providing a platform for hate sites," saying there is a clear link between the rise of social media and the rise of anti-Semitism.

Danny Danon told a high-level forum on anti-Semitism that on Twitter, 63 percent of all anti-Semitic tweets are calls for violence against Jews, but only one in ten are ever removed, he said.

"We are living in a new era and we face a new kind of anti-Semitism," Danon said. "Online communities of hate spread lies about Israel and conspiracy theories about the Jews to millions around the world. All they need is a wireless connection, a Facebook account, and a deep hatred for the Jewish people."

In France, which has Europe's largest Jewish population, anti-Semitic incidents today are seven times higher than in the 1990s, Danon said. And in Britain, 2014 saw the highest-ever number of attacks against Jews.

Soccer fans in Poland held a rally on Aug. 30, he said, but instead of cheering their team they chanted anti-Semitic slogans, burned a life-size puppet of a religious Jew wearing a hat and beard hanging from a rope, and held up a banner saying, "Let the Jews burn."

Danon said Google recently took down an interactive program used to identify and target Jews on the Internet. It let users around the world "tag people who they thought had a Jewish-sounding name or who openly supported Israel," Danon said. "By the time it was shut down it had a vast database of names."

US Ambassador Samantha Power called for "more effective tools to monitor and confront anti-Semitism online and in social media." However, she stressed that freedom of speech must be protected "even in some of its most hateful forms."

"We must insist on maintaining a distinction between legitimate criticism of Israel and anti-Semitism," Power said. "Yet the lines between the two are often blurred."

She pointed to an October 2015 rally in Malmo, Sweden to protest Israel's policies where some participants chanted "slaughter the Jews."

She also cited several examples on US college campuses, including at Brooklyn College, where a group of student activists interrupted a faculty meeting in February "demanding that all Zionists be removed from campus."

Besides confronting anti-Semitism online, Power said, "We can and must come up with more effective ways to leverage the openness of the Internet to empower those who are targets of such harassment to fight back."

Danon said young people must be educated about the dangers of anti-Semitism online but talking isn't enough.

"Media companies have to take preventative steps," he said. "Stop providing a platform for hate sites. Stop easy access through content searches, and start developing mechanisms to detect and report on racist and anti-Semitic search results."

The forum, sponsored by the US, Canada, Israel and the European Union, followed the first-ever UN General Assembly meeting on anti-Semitism in January 2015. In a video message Wednesday, Secretary-General Ban Ki-moon called religious bigotry "one of today's greatest threats."