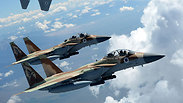 The Israeli Air Force attacked Syria in the early hours of Thursday morning following spillover from the fighting in Syria.
Several mortars were fired into Israel on Wednesday afternoon, hitting the northern Golan Heights. No injuries or damage was reported.
They hit a Syrian artillery position located across the border on in the Northern Syrian Golan. The IDF has expressed that it views the Assad regime as responsible for anything that happens or is shot from Syrian territory, and will not accept any violation of Israeli sovereignty or threat to the security of Israeli citizens.
No special instructions or alerts were given to Golan Heights residents, and life is continuing as normal there.
Spillover of mortars into the Golan Heights occurred earlier this week as a result of the Syrian civil war. There were no injuries or damage reported during the incident. The IDF hit Syrian Arab Army artillery positions in response.
Following the spillover at the beginning of the week, a high ranking Syrian official told Syrian news sources that "the Israeli enemy continues to support terror organizations and has attacked (Syrian forces) in the area of Kafr Hader with two missiles which were shot by Israeli drones, causing damage."
The Syrian official didn't say anything about wounded or killed in the attack.
Mortar fire has spilled over into Israel several times since the start of the Syrian civil war as a result of the fighting between rebel forces and the Syrian regime. The IDF has responded each time by hitting the sources of fire.