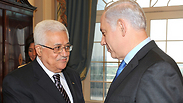 Netanyahu and Abbas
Photo: Moshe Milner, GPO
The Russian Foreign Ministry says Israeli leaders and Palestinians have agreed, in principle, to meet in Moscow, according to a report by the Russian news agency, Interfax on Thursday. No date was given by the agency for the possible meeting.

The report comes just three days after rumors were circulated by the agency that Abbas had agreed to meet with Netanyahu in Russia for direct talks.

The initial report on Monday came just hours after Netanyahu's office said the prime minister was considering an offer by Russian President Vladimir Putin to host the talks between the Israeli leader and Abbas.

The last round of direct negotiations between Netanyahu and Abbas took place in 2014 but broke down over a string of disagreements. Since then, Netanyahu has repeatedly stated in public that he is willing to meet with Abbas any time, any place.

Indeed, speaking at The Hague on Tuesday, Netanyahu said "I am ready to meet with Mahmoud Abbas any time with no preconditions to engage in direct talks...I am not picky about the place—whether it is here in the Netherland's or in Moscow is no problem."

"The central question is whether Mahmoud Abbas is ready to meet without preconditions. We hear conflicting versions. Just yesterday Palestinian spokespersons said that they were ready to meet but that they have conditions—the release of prisoners—and they want to know in advance what the results of the talks will be," Netanyahu said.

According to the first report by Interfax, a the Palestinian ambassador to Russia was quoted as saying that the meeting was supposed to take place on September 9 but that Israel requested that it be delayed.

Despite the reported agreement by Abbas and Netanyahu's repeated calls for renewing negotiations without preconditions, the PA president is insisting that on a construction freeze in the West Bank and a discussion which will establish a timetable for what he describes as "the end of the occupation" prior to the commencement of talks.