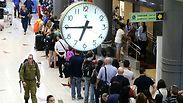 Train delays in Haifa
Photo: Gil Nechushtan
Following the public controversy over the railway construction on Shabbat that led to the closure of the Tel Aviv–Haifa line on Sunday, the country's Chief Rabbinate released a statement on Thursday afternoon. Entitled "Resolution on Shabbat in the State of Israel," the message stated, "Get your hands off the holy Sabbath!"

The statement said, "Recently, some have decided that there's room for negotiation on the sanctity of Shabbat. So they offer all sorts of options to change the face of the country on Shabbat. Even if the reality has been unfortunately differently recently, this is no reason to give legitimacy to desecrating Shabbat."

The rabbinate added, "There are those who try to instill in the nation's heart concepts that fundamentally contradict the religion of Israel, and unfortunately, not regarding the sanctity of Shabbat, but also on the matters of the sanctity of the Jewish home and on other topics. Shabbat is not open to negotiation and haggling, and there's no place to compromise its sanctity."

Following this statement, the heads of the Knesset's ultra-Orthodox factions—Minister of the Interior Aryeh Deri (Shas), Minister of Health Yakov Litzman (United Torah Judaism) and Financial Committee Chairman Moshe Gafni MK (United Torah Judaism)—released their own. It stated, "We are acting in full and close cooperation to take care of and maintain the dignity and sanctity of Shabbat as it has been since the founding of the state, and we hope that, with God's help, thus it shall remain."