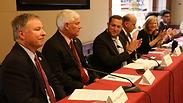 Yossi Dagan at the BDS panel
Photo: Samaria Regional Council
Head of Samaria Regional Council speaks at congressional BDS conference
During a special session with US congressmen, Yossi Dagan discusses BDS, anti-Semitism and the damage caused to Palestinians. 'A lot of people want to believe the tragic history of anti-Semitism ended after World War II, but unfortunately, it is rearing its ugly head today in the form of BDS.'
In a special conference held at the US Congress, in front of more than a hundred participants, Yossi Dagan, head of the Samaria Regional Council, explained why BDS is anti-Semitic and its only purpose is to harm the State of Israel.

In the panel held on Thursday, which was attended by members of Congress, a Palestinian youth from Nablus explained that BDS actions primarily damage Palestinians by harming joint economic ventures with settlements.

Yossi Dagan speaking before BDS conference (צילום: מועצה אזורית שומרון .)

Congressman Doug Lamborn compared BDS activities with those of the Nazis prior to the Holocaust. "The Nazis and the BDS movement started operating an economic boycott," said Lamborn. "A lot of people want to believe the tragic history of anti-Semitism ended after World War II, but unfortunately, it is rearing its ugly head today in the form of BDS."

Conference speakers also included Congressmen Pete Sessions, Erik Paulsen and Louie Gohmert, who addressed BDS activists and said, "We will not let you move forward with this any further than you already have. We will pursue your investment and cripple your pockets until you stop this anti-Israel activity."

At the end of the conference, Dagan noted that, "Although the United States is a friendly country to Israel, support in the war against BDS and support for Samaria are not obvious." Dagan went on to further express the hope that "the State of Israel and the Ministry of Foreign Affairs will join advocacy efforts that puts Samaria in the heart of Israel's interests."